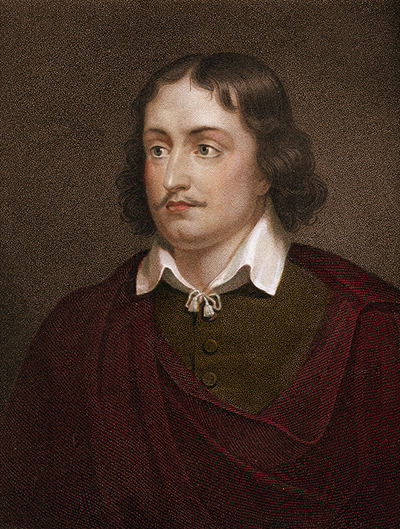 Buy Art Prints Now
from Amazon
* As an Amazon Associate, and partner with Google Adsense and Ezoic, I earn from qualifying purchases.
Claude Lorrain was a French Baroque painter from the 17th century who helped to establish landscape painting as a respected genre. His skilled use of light, atmosphere and composition would help bring about the Romanticism era.
Claude Lorrain traveled around Europe in search of artistic inspiration, and along the way was able to generate an impressive list of donors, many of whom came from an aristocratic background. Little is known about the artist's private life, in part because of his near-obsession with his work, to the detriment of his relationships with friends and family.
He was drawn to Italy most of all, and would achieve so much success here, from his Roman base, that many considered him to be an adopted Italian by the end of his career.
Early Life
The artist was born at some point between 1600 and 1605 in the commune of Chamagne which was based in the Duchy of Lorraine at that time. His parents were Jean Gellée and Anne Padose who had five sons in total, with Claude being the middle sibling. Claude's career benefited from his travels abroad, which broadened his artistic understanding, but his initial move to Germany as a child was forced by unfortunate events, after the passing of both of his parents.
His elder brother, Jean Gellée, would take him in and help him to recover from this tragedy. Jean was working as an artist at this point, in the city of Freiburg, and decided to teach Claude the artistic fundamentals after his younger sibling showed an interest.
Artistic Development
Following the success of the Italian Renaissance, a great number of European artists would head to Italy in search of work and inspiration. Claude would be no different in that regard, and having left the boundaries of his childhood in France, his interest in other European cultures was piqued. His brother was able to help him to find work in the studio of German artist Goffredo Wals in Naples, before he then moved on to serve Agostino Tassi in Rome.
Italy was a fractured region at this time and each region would foster its own unique artistic approaches, bringing considerable benefits to any artist willing to spend time in each artistic location. Tassi specialized in landscape and seascape paintings, which may have encouraged the young Claude to focus on this genre within his own oeuvre, at a time when it was not respected as much as religious themes.
Claude's own contribution over the next six decades would help to change that. In all, from 1620 to around 1627, the artist passed through the workshops of Goffredo Wals, Agostino Tassi and then Claude Deruet back in France, before ultimately deciding to settle in Rome. These formative years can be considered his unofficial apprenticeship, and helped him to better understand how he wanted to evolve his artistic career.
Mature Period
Into the 1630s Claude continued to travel from time to time, taking in culturally rich cities in France, Germany and elsewhere in Italy. This brought about a continued evolution of his style, as well as allowing him to acquire new donors from across Europe. After receiving commissions from the likes of Pope Urban VIII, the King of Spain and Cardinal Bentivoglio, the artist's reputation was entirely established and he would find it much easier to acquire new commissions as a result.
Indeed, it was clear that his use of the landscape genre, still considered something of a niche pursuit at that time, was paying off. In speaking directly to those commissioning his work, he could also better understand their tastes and tailor his future content accordingly.
In the mid-1630s the artist started to become concerned that the reputation he had built could be exploited by others. He therefore chose to produce highly detailed sketches of each painting that left his studio, along with notes on who purchased each item. He believed this volume, which he termed his Liber Veritatis, or Book of Truth, could provide extensive evidence regarding the origins of his work. In more recent times this survey of his career has proven invaluable to art historians whilst researching his career.
The artist continued to achieve success from his base in Rome all the way into his late seventies, but his output slowed after suffering some significant health problems in the 1660s. Such was his level of suffering from gout that he even arranged for a will to be formed in his name, but thankfully was able to recover well enough that he could continue to work for nearly another two decades. Another reason for his reduced output were the larger canvases that he was now producing, as his confidence and boldness continued to grow.
Masterpieces
Harbor Scene at Sunset from 1643 demonstrates several trademarks to the artist's work, with Claude combining a harbor alongside classical architecture and bright sunshine. He would typically combine influences from different periods, with his ships being based on present day Italy, whilst his buildings would be styled in the manner of classical Rome.
This particular example was a construct directly from the artist's imagination, though his man-made creations would always carry inspiration from the artist's real life experiences. In 1672 Claude continued this method of flanking the right hand side of the composition with classical pillars in Landscape with Aeneas at Delos and again three years later with View of Carthage with Dido and Aeneas. See also the earlier Embarkation of the Queen of Sheba from 1648 which remains amongst Claude Lorrain's most famous paintings of all.
Pastoral Landscape from 1648 and The Sermon on the Mount from 1656 provide examples of Claude's nature-focused works, where the artist would incorporate rivers, forests, and distant mountains to produce idealized landscapes. The role of humanity within them would become less and less significant over time as Claude started to understand his preferred approach, and also his donors would start to understand and accept art in which nature would dominate.
Artistic Style
Claude Lorrain's success not only helped to establish landscape painting as a mainstream artistic genre, but also brought about a number of stylistic developments which would help the subject to evolve. Many of these advancements were then taken on by significant artists in later generations, many of whom would respectfully laud Lorrain's work as a key influence on their own. It was his use of light, with bright sunshine engulfing sections of his work, which was particularly groundbreaking.
You will see examples of this in the later work of British artists such as Turner and Constable, who would have come across his work after a number of local collectors acquired some of Lorrain's work. Whilst Claude Lorrain remained a landscape painter throughout his lifetime, his approach did evolve over time, as most noticeably his use of figures within his scenes started to diminish over time as his confidence grew.
This was a natural progression from how landscapes had been used as background elements in Italian art across the Renaissance, towards the standalone genre which would evolve from Claude's own contributions. Indeed, one can track his influence all the way up to the 19th century Impressionists, where further experiments with the impact of light were carried out directly on the canvas.
Death
Claude Lorrain died on the 23rd of November, 1682. His final artwork, Ascanius Shooting the Stag of Sylvia, was produced earlier in that same year, underlining how the artist had continued to work, albeit at a slower pace, right up until his passing. He would have been in his late seventies or early eighties by this point, but still enjoyed an impressive list of donors to call upon.
Only four of his works remained unsold and were located in his studio alongside a large collection of his drawings, which had been bound and documented. Most of these were study sketches or drawn copies of his major paintings, as a means to record his artistic output.
Legacy
Claude Lorrain is best remembered for the idealized landscapes which covered both classical ruins and also serene pastoral scenes. His evolution towards scenes without any human activity encouraged other artists across Europe to do the same, and this led to the landscape genre being established and respected within mainstream art circles.
His use of bright light, often featuring a dominant use of the sun itself, was perhaps the biggest technical innovation of his career, as other elements could be described as continuing what had gone before. The popularity of his work with English collectors explains how his reputation soared in that country, later influencing the likes of Turner and Constable, with their work then impacting the French Impressionists who would further evolve the use of light in landscape art.