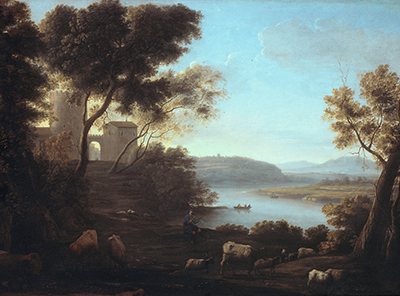 Buy Art Prints Now
from Amazon
* As an Amazon Associate, and partner with Google Adsense and Ezoic, I earn from qualifying purchases.
Artist Claude would have been in around his mid to late thirties at the time that he produced Pastoral Landscape: The Roman Campagna in circa 1639. Today, it resides within the permanent collection of The Metropolitan Museum of Art, USA.
The composition itself features rolling hills in the foreground with an assortment of animals spread across that part of the work. This leads down to a river which curves through the centre of the painting, leading off into the distance. At the very back we find several mountains which fade away into lighter tones to signify their considerable distance away from us. To the left and right we find tall trees which section off the boundaries of the painting and then there is architecture to the left, with a fortified building or castle and an entrance arch. We see the terracotta tiles across the roof but the building itself is carefully blended into the surrounding nature. Within the river, a small boats takes three passengers across the horizontal of the work, in a manner which we feel like we are supposed to notice. A heavy contast in lighting separates the foreground from the river and beyond, with a bright sky that is blocked out by the overhanging trees and shrubs.
Everything here is entirely typical of the artist who worked consistently throughout his career. Claude attracted some notable patrons who helped him to become entirely financially secure. The artist was also able to travel around Europe in short trips from time to time, taking in regions of Germany, France and Italy in order to potentially include different influences within his work. Claude was encouraged into art by his brother before perfecting his techniques under the guidance of a number of Italian painters once he had relocated from Lorrain in France. He is sometimes forgotten as being French because of how most of his life, particularly as an artist, was spent in Rome. He managed to use this city as a base to draw in patrons from elsewhere in Europe, and enjoyed a great popularity within his own lifetime. His legacy would be felt all across the continent, with landscape art becoming a respected genre for the first time from around the 17th century and onwards.
The Metropolitan Museum of Art holds Pastoral Landscape: The Roman Campagna within its permanent collection and this piece serves as an excellent education in the style used by Claude throughout his lifetime. There is not much of his work in the US, making this an important addition to their collection, and most of his career highlights have been acquired by institutions in Italy, France and the UK. He is today regarded as a critical figure in the rise of landscape art, which today is perhaps the most popular genre of all, alongside perhaps portraiture. Back then this was not the case, and religious themes would dominate for several centuries, particularly within Italy. He helped to change perceptions and also attempted to use his work to improve on nature, or at least from an aesthetic point of view.