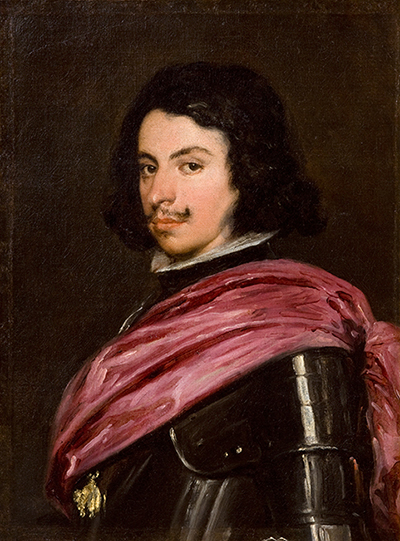 Buy Art Prints Now
from Amazon
* As an Amazon Associate, and partner with Google Adsense and Ezoic, I earn from qualifying purchases.
The small provincial museum of the Galería Estense in Módena, Italy holds this Diego Velazquez portrait from 1638. It is a respected piece though little information on it has yet been translated into English.
Diego Velazquez took many years to perfect his skills as a portrait painter, and along the way he received a steady flow of commissions from many high ranking figures. The finance that this work brought in allowed him to travel around Europe on several occasions and continue to experience new influences and ideas. There is relatively little information currently available on this particular portrait, perhaps due to it receiving less exposure that some of Velazquez's other paintings which are on display in major national galleries. We do at least know the year that it was produced, and from that can compare it with other paintings from around this period of his career.
Francesco II d'Este himself was the Duke of Modena and Reggio from 1662 right up until his death in 1694. He would take over from his father, Alfonso IV d'Este, and would take on important roles within this province, including the handling of affairs which impacted the wider nation as well as across the rest of Europe. He was connected to Louis XIV, but resisted any foreign interference in how he ran Modena. To serve in this role for three decades was quite an achievement considering the turbulent political situation in Italy during this time.
The Galería Estense in Módena itself is a small but significant Italian gallery which also holds a number of other important works that one might consider going to see if you find yourself in this picturesque part of the country. Even before you set eyes on their impressive collection you will be presented within the stunning architecture in which it is displayed. It is located on the top floor of the Palazzo dei Musei and the collection of art generally derives from the ruling powers of Modena many centuries ago. Related artworks include a Bust of Francesco I d'Este by Gian Lorenzo Bernini. You will also find Modena Triptych by El Greco, Scenes from Ovid's Metamorphoses by Tintoretto and also Roundels from Virginia de' Medici's Apartment in the Palazzo dei Diamanti by the Carracci brothers.