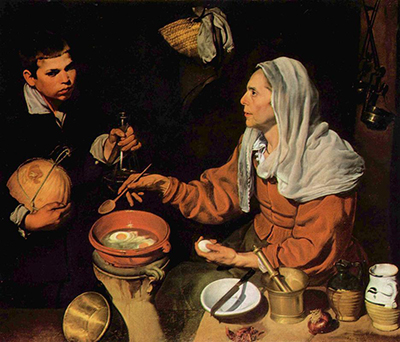 Buy Art Prints Now
from Amazon
* As an Amazon Associate, and partner with Google Adsense and Ezoic, I earn from qualifying purchases.
The Old Woman Cooking Eggs demonstrates Velázquez's skill in painting people and ordinary objects that surround us.
His fascination with contrasting textures and items and the use of reflective and opaque materials formed great passages of painting such as the different kitchen utensils and the eggs frying in hot oil.
Velázquez was eighteen or nineteen when he created this extraordinary piece of art. In Old Woman Cooking Eggs, Velázquez uses focused light which produces an original painting where shapes, surfaces, and textures are amazingly brought to life.
The masterpiece shows a senior woman sitting in front of a clay pot in which she is cooking eggs. The painter has captured every detail from the small sliver of glowing coals, the fine features of the old woman's face to the veil on her head.
On the left side is a young boy watching while holding a carafe of wine on one hand and a melon under the other arm. The actions of the woman and the boy are frozen, and they do not communicate. The suspended gestures and their disconnected gazes instil tension into the scene.
Diego Rodriguez Velázquez was one of the renowned painters that modern artists have paid tribute to his work by recreating some of his masterpieces. Born on June 6, 1599, Velázquez was an individualistic Spanish artist during the contemporary baroque period. His artwork was a depiction of realism and impressionism, painting art that had scenes of cultural and historical importance.
Velázquez painted portraits of the Spanish royal family and prominent European personalities.
In addition to important persons, this leading artist of the Spanish Golden Age created paintings of ordinary, humble people in everyday life. One of his artwork that depicts a common scenario in a neighbourhood of low-class figures is Old Woman Cooking Eggs which is a literal translation from the Spanish phrase Vieja Friendo Huevos.
This painting is a bodegobe genre which originates from Bodegón, a Spanish word meaning a pantry or tavern. During the early stages of his career, Velázquez created paintings of tavern and kitchen scenes.