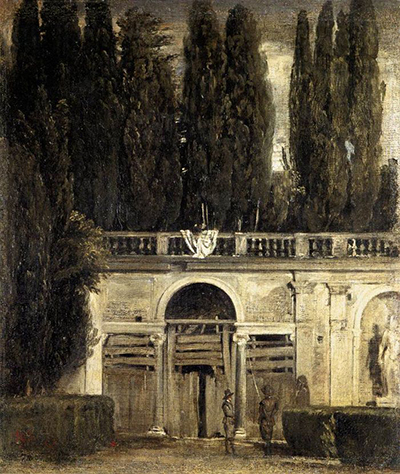 Buy Art Prints Now
from Amazon
* As an Amazon Associate, and partner with Google Adsense and Ezoic, I earn from qualifying purchases.
This is another of the paintings created by Diego Velazquez during his initial trip to Italy, a visit which would actually last around a year in total. Whilst staying at the Medici's, he also produced this View of the Villa Medici.
It was in late 1629 that Velazquez made the move over to Italy in order to learn more about the culture of this fragmented nation as well as gain new inspirations for his work. He was, naturally, entirely aware of the qualities of the Italian Renaissance which had only recently drawn to a close by that point. Velazquez may have held a particular interest in painting, but he also was curious about many other art forms too, making his stay at the Medici's particularly enjoyable. Here he could appreciate some extraordinary architecture and then within each room and their gardens were a plethora of sculptures and also examples of modern garden design. He could wander around in awe at this location which was entirely fitting for such a powerful family who also held a deep and genuine love of the arts. The Medici's would serve as patrons to a large number of commissioned during their reign at the summit of provincial politics and frequently courted the finest European artists for this very purpose.
Within the composition itself on this painting titled Villa Medici Grotto Oggia Facade, we find one item of architecture that dominates the central plane. It stretches from left to right, with intricate elements of Roman design found throughout for those able to look closely. Several figures stand in the foreground which helps to provide an understanding of relative size, and then the vertical structure is provided by a series of trees which strut up at the back, reaching the very tip of the painting and petruding slightly beyond that. There is a landscape behind this property, but it is almost entirely hidden by the trees that were no doubt added in order to give the Medici family a little more privacy when sat out in their garden.
This piece can now be found in the collection of the Prado Museum in Madrid. Their highlights include Velazquez's Las Meninas, but there is much more besides to find here. There are also good collections of sculpture from a variety of periods, for example, as well as a selection of Goya drawings. For those in this great city for an extended period, you might also venture out to some of the other major galleries in walking distance of the Prado, in order to examine some examples of more contemporary art, such as Cubism which was a movement dominated by French and Spanish artists. In all, there is enough to cover any taste for many hours, if not days, and considerable investment has also been made in order to help these great venues compete with the best in Europe. With the collections that they have, that should remain for many decades to come.