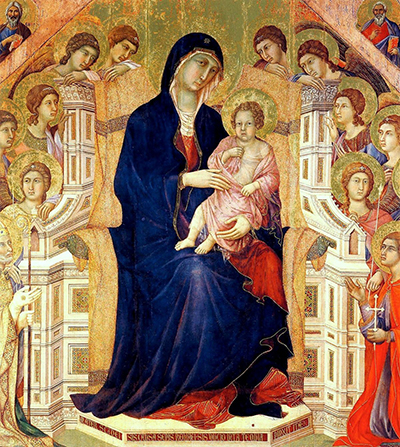 Buy Art Prints Now
from Amazon
* As an Amazon Associate, and partner with Google Adsense and Ezoic, I earn from qualifying purchases.
Duccio was a famous Italian painter who appeared in the 13th and 14th centuries, just prior to the Early Renaissance. He specialised in religious depictions in a Gothic style.
The artist was born in the Tuscan city of Siena, which at the time was a powerful kingdom. Italy was made up of a series of Papal States at the time and Duccio was fortunate in his location here, as Siena had a number of rich and powerful figures and institutions who sought out his services on regular occasions. The impact created by this artist would encourage many others to follow a similar path into painting, and this led to what we now know as the Sienese school. They developed their own take on the Gothic style of art which had spread all across Europe over a number of centuries.
Duccio's paintings were produced using egg tempera which was the tool of choice for many Italian artists for centuries until replaced by a preference for oils. He would generally work on wood, particularly for his smaller pieces, but would also use gold leaf when applying the final layers. This added a magical finish to his work that lifted it up above much of the rest during this period. His frames would often be consistent with this approach, allowing frame and artwork to fit together visually. The consideration of how artworks would be presented took on greater complexity when working on triptychs, where panels would fold and also perhaps need to be cropped to fit in a specific installation.
The style used here was subtle, taking inspiration from elements of Byzantine art, but then providing softer portraits that were easier for the viewer to feel a connection with. One can argue that some of his work would move things on towards the achievements made within the Renaissance movement which followed soon after. Duccio used a careful blend of colour in order to produce this softness and this was aided by his own impressive technical abilities with tempera, as commented on by a number of artists who followed on afterwars. Whilst adhering to the flat perspective used within Gothic art, there was a slight movement within his work to begin the better use of perspective that came about in later centuries.
The reality of researching any artist from the 13th century is that finding accurate information will be very hard when compared to modern artists. There was evidence uncovered that suggested he had driven up large levels of debt during his lifetime, and this might help to explain why the rest of his family made efforts to distance themselves from him after his eventual passing in 1318/1319. There are also gaps of knowledge for years at a time within Siena administrative records that suggests Duccio had actually chosen to travel around Europe on several occasions. We cannot be sure as to whether these journeys were for the purpose of artistic discovery or instead just to strengthen his connections with potential patrons. There have been suggestions that these trips may well have included cities such as Paris, Assisi and Rome, but it is hard to add anything more concerete than that with what we have discovered from his career up to now.
Duccio's financial mismanagement would never detract from his artistic qualities, that became highly regarded in Siena during the 14th century. By that point he had become a famous name and was regarded as a fairly radical artist who had brought new ideas into the country. People today might look at his work and immediately see the Gothic style, which he clearly worked within, but it should not be forgotten that he brought in several new developments that prepared us for the transition from the middle ages into the Renaissance. The same can be said about Cimabue, and some have argued that Duccio actually served under him during his apprenticeship years. Similarities in style would suggest that there could be some truth within this claim, but others believe that he may actually have travelled outside the boundaries of Italy in order to learn his trade in his early years.
Famous Paintings by Duccio di Buoninsegna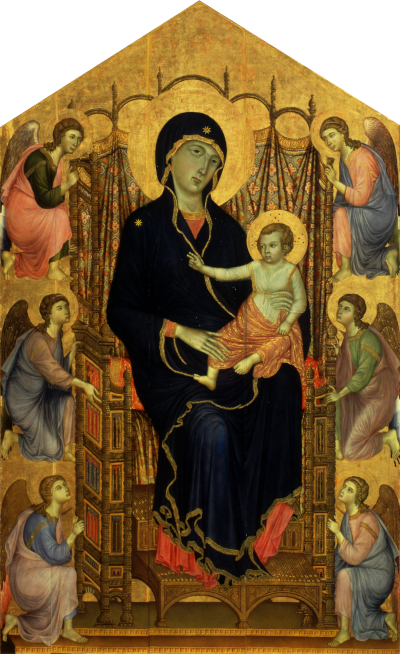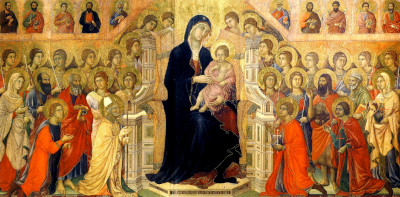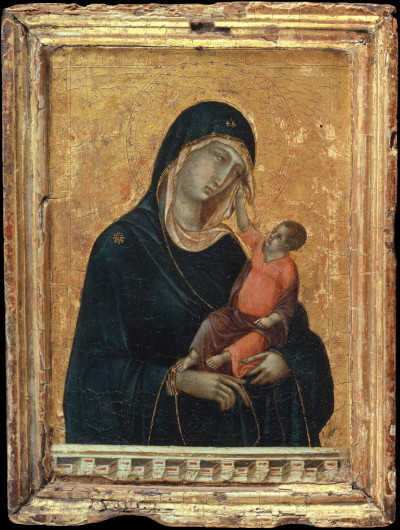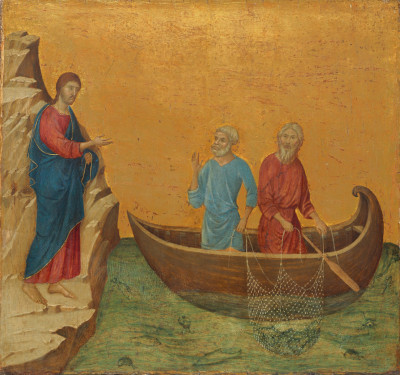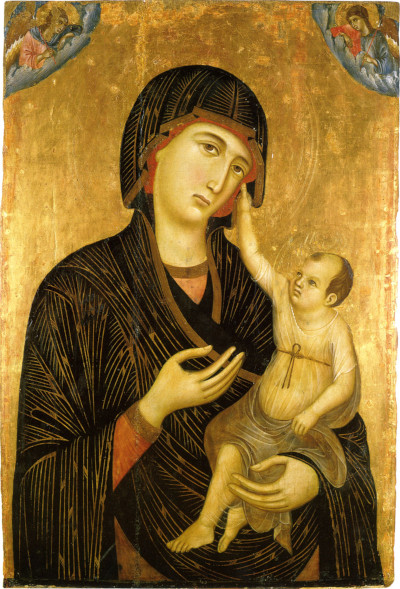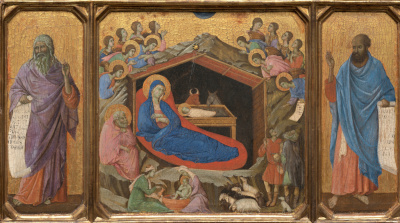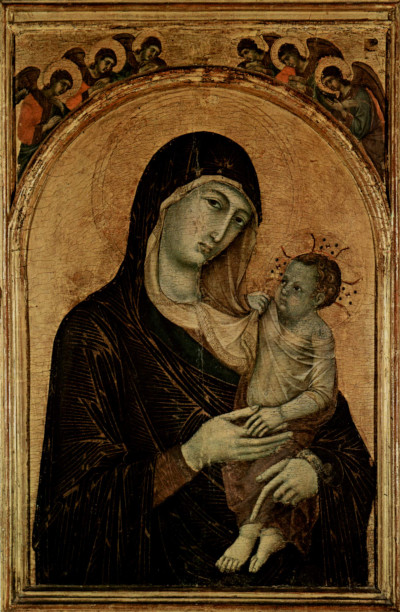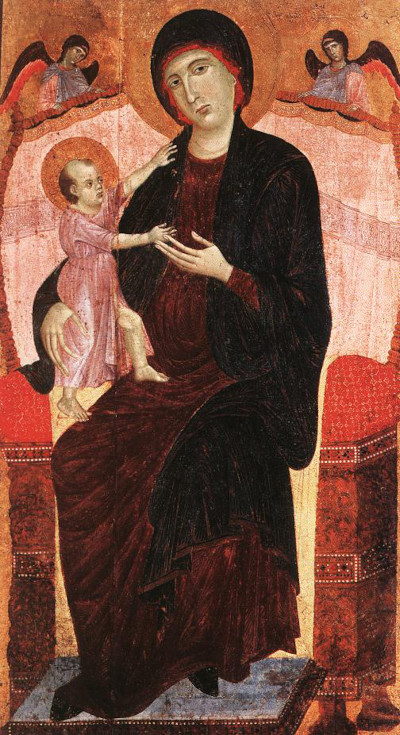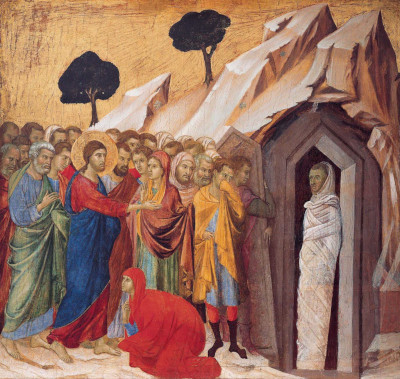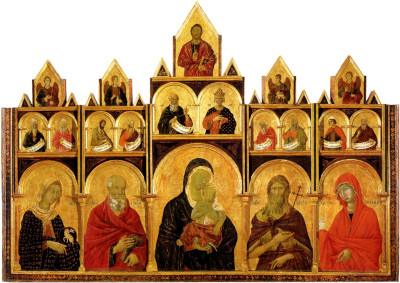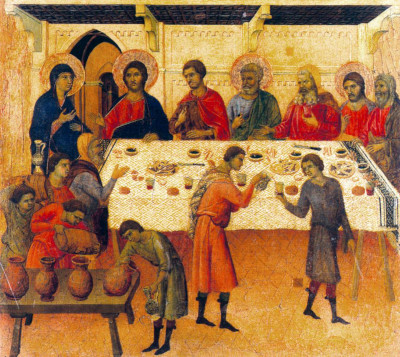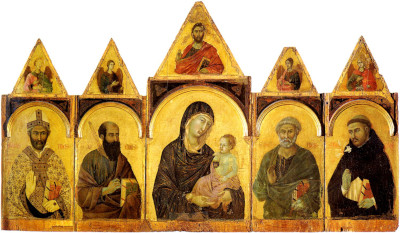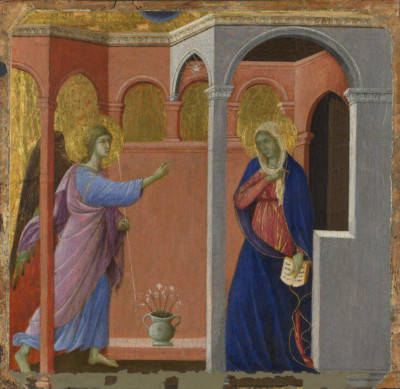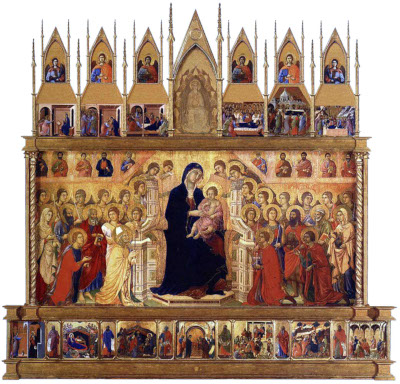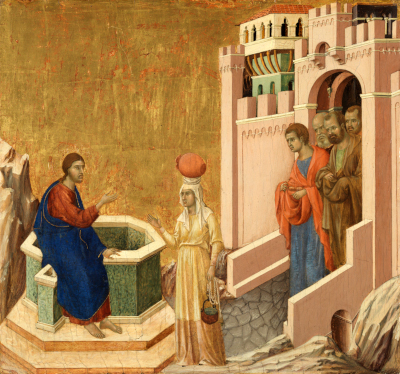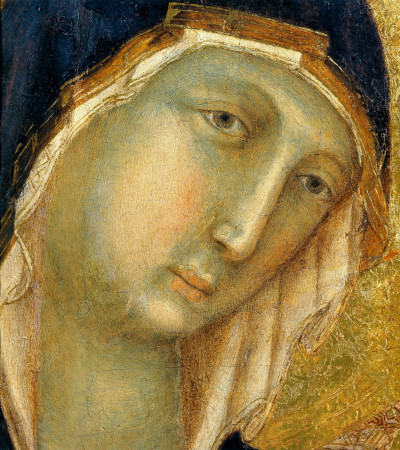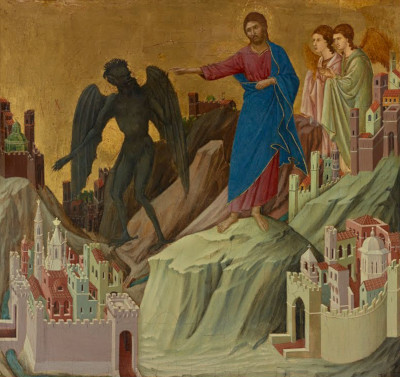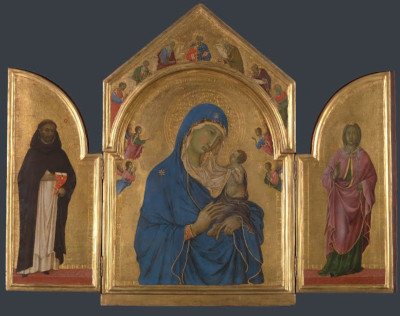 Previously to Duccio, it was very rare for artists within Italy to place figures within scenes of architecture. His desire to experiment with perspective was behind his own decision to capture different buildings within his paintings. This was a very early, tentative approach which laid the groundwork to then take it on further. A browse of the highlights from his career reveals items such as castles, pillars and passageways which are placed behind his portrait figures. Perspective would be present, but limited, with just perhaps a couple of different phases between the foreground and background. Compare that to some of the later landscape scenes from European art, and you will notice the clear differences in this early style of perspective painting. That said, the importance of his contributions cannot be underestimated in moving us towards the techniques of several centuries later.
A large number of artists painted in a similar style to Duccio, and this was one of the biggest elements of his legacy as an artist. Some of these would have worked with him during their own apprenticeships within his studio, whilst others may simply have admired his work from a distance and chosen to take in elements of his artistic approach into their own. Siena at that time was a thriving city with wealth and opportunities, with the ageing Duccio being seen by many of his understudies as a hugely talented artist whose relatively radical approach had pushed European art onwards. It was an exciting time to be living in the Papal States, and the Kingdom of Siena was a major artistic region of what we now know as Italy. His career, in general, is regarded in a similar way to Cimabue, where new ideas were introduced and a subtle movement towards the Renaissance had begun.