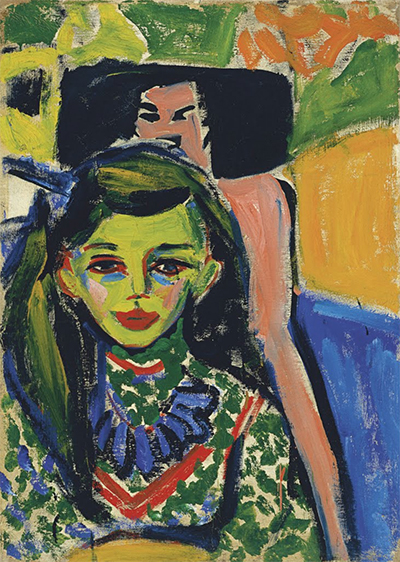 Buy Art Prints Now
from Amazon
* As an Amazon Associate, and partner with Google Adsense and Ezoic, I earn from qualifying purchases.
Fränzi, full name Lina Franziska Fehrmann, appears in many different artworks from the Die Brücke group of artists, include one of the spearheads, Kirchner, as shown in his painting here.
The model is believed to have grown up in the Friedrichstadt district of Dresden, from a modest family background. In this painting she is sat on a carved chair, whose appearance appears to be that of a woman. The style of the chair is in line with many of the artist's sculptures, with a heavy influence from traditional African art. The naked female sculptured into the chair contrasts with the green tones of the young girl who sits on it. Fränzi looks calm and contented in this scene, also particularly confident for a young child who was in the company of some of the most talented artists in German history. She knew them well by now and would not have been nervous having modelled for them on many occasions, in a number of different artistic disciplines.
The Museo Nacional Thyssen-Bornemisza, Madrid owns this stunning piece from 1910. Whilst being a key part of the rise of German Expressionism, it is far from the only highlight in this institution's eye catching collection. Check ahead if you are visiting to see a particular artwork as most major art venues will loan in and out artworks for specific exhibitions across the year, so your favourite piece may not always be on display where you expect. Besides some Kirchner paintings, you can also find original artworks from other notable artists such as Rogier van der Weyden, Gerard David, Hans Memling and Paolo Uccello. In terms of artists related to Kirchner, you will also find the likes of August Macke, Emil Nolde and George Grosz represented here too.
Both Seated Girl (Franzi Fehrmann) and Franzi in Front of Carved Chair use similar colour schemes for her facial features, with large stripes of green covering the many regions of her face. She then is given red lips, attractive and alluring. Some have been uncomfortable with this sexualisation of this young model, who in some portraits would be considered too young to be portrayed in this way. Both artworks also feature her in colourful and attractive dresses which underline her eye catching beauty.