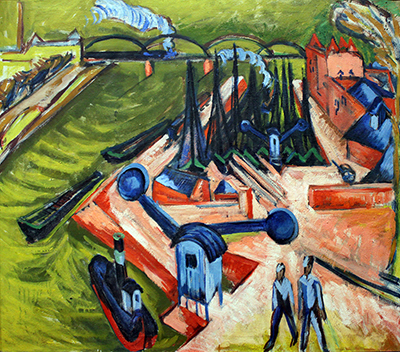 Buy Art Prints Now
from Amazon
* As an Amazon Associate, and partner with Google Adsense and Ezoic, I earn from qualifying purchases.
The paintings of Ernst Ludwig Kirchner make exceptional art prints for the home or office, thanks to the bold colour schemes and expressive figurative forms. There are also countless numbers of charming landscape scenes too.
Framed art prints with a simple finish would be best suited to this type of boldness. The artwork itself has enough in it that nothing more is required. Some prefer cheaper options, such as smaller reproductions or unframed versions - much depends on your budget and also your personal tastes. The style of the interior around which it will be displayed is also highly significant - a small print sat alone on a large wall would not look quite right. You might therefore go for a larger piece, or perhaps instead have several smaller prints lined up together on the same wall. There is the opportunity of rotating different artworks around the house from time to time which keeps each room looking fresh and interesting, and this may be particularly good if you spend a large amount of time in a single room.
Kirchner's landscape scenes have proven particular popular, where this skilled artist captures the beautiful countryside of both Germany and Switzerland. It is easy to understand just why he felt so at home in his new surroundings once he crossed the border from his native Germany. His art was more welcomed by the establishment and he feared the reach of his original nation and the way in which its government was treating modern art. This region is famous for its rolling hills and beautiful mountain ranges, making it one of the more attractive parts of the whole of Europe and this provided some inspiration for the artist when working in this genre.
Those considering buying reproduction prints of original Kirchner paintings will find a huge selection of choice available. He was a highly prolific artist who tackled many different mediums during his career. You might even, for example, prefer a print of one of his photographs which were also critically acclaimed. Besides his own portraits and landscapes there were also many sketchbook drawings that forms a growing niche with art fans. In all, with copyright having been removed from his work due to the years that have passed since his death, many retailers offer huge selections of his work to choose from. Please bear in mind that ordering from abroad may result in surprise tax bills, and so it is always advisable to order from your own country where possible, particularly when buying framed prints which will be more expensive and heavier.
If you have a broad interest in art you may also have an interest in Franz Marc prints, or perhaps those of others such as Wassily Kandinsky, August Macke or Edvard Munch. All of these artists shared stylistic similarities to Kirchner, but each had their own unique touches. Marc used a similar boldness of colour whilst Macke preferred a reduced use of detail. Munch was a Norwegian painter whose figurative work was fairly similar to Kirchner. His series of The Scream remains amongst the most popular choice for art prints over the last few decades and he was particularly involved in expression and emotion, including addressing the negative emotions that we all experience from time to time, but which are rarely captured within art. He would also sometimes work entirely in black and white contrasts, when printing etchings which contrasts considerably from the likes of Kirchner who concentrated on bright colour and carefully selecting his combinations to best suit the atmosphere of each and every painting.
When selecting your preferred piece, please consider all of the options available, such as whether to frame it. Framing a print will help to protect it for the long term as well as providing a smarter, more professional finish. These will add consider expense though, and also increase shipping costs as the artwork will not be much heavier. If you are on a tight budget, then posters can be a good alternative and enable you to fill several rooms at a very low price, and they can be sent rolled up together, meaning shipping costs are extremely low. Many retailers will offer a large selection of Kirchner's paintings and you might even find something that you had not seen before, as his oeuvre was fairly large by the end of his career. It is worth shopping around and also checking reviews in order to find the best quality reproductions possible, as retailers will vary considerably in that regard.
Most Popular Ernst Ludwig Kirchner Prints