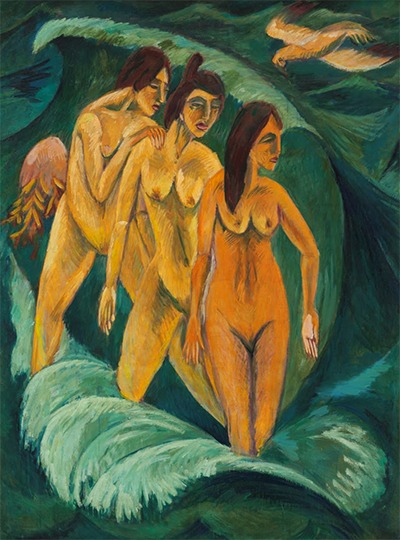 Buy Art Prints Now
from Amazon
* As an Amazon Associate, and partner with Google Adsense and Ezoic, I earn from qualifying purchases.
Drei Badende, or Three Bathers, is a portrait painting from German Expressionist, Kirchner, which dates from 1913.
The three models are styled in a similar way to traditional African art and this influence can be seen throughout the Die Brücke movement, of which Kirchner was a major contributor. The forms are elongated and detail kept to a minimum. They stand amidst strong waves and there is an additional bird who flies over the top. The artist returned to the topic of bathers on many occasions and generally featured three figures, though sometimes more. The overall style of the painting is far from reality, of course, with the artist preferring to use his emotions and deep thoughts to direct his brush as well as his colour choices. This new approach has proven particularly popular within recent centuries, having initially found it difficult to convince art critics of its inherernt value.
The intention of the three figures in this painting is to represent some of his sculptures, which were also African in style. Primitivism is clearly present but with further influences which combined to produce this strand of German Expressionism. The bathers are termed 'Berlin day-trippers in the Baltic sea'. It is believed that the artist's own health was quickly deteriorating at this point and perhaps the impending power of the sea is symbolic of his own issues. This was to actually allow him out of much military duty having initially applied to become a driver in WWI.
The original painting is now owned by the Art Gallery of New South Wales in Australia, as part of an impressive collection. The amount of items is extraordinary and in terms of painting, many different locations around the world are covered as well as different centuries too. Some of the highlights include work by Eugène Delacroix, Lord Frederic Leighton and Sir Edward John Poynter, Pierre Bonnard, Georges Braque, Pablo Picasso, Ernst Ludwig Kirchner, Alberto Giacometti and Giorgio Morandi, John Constable, Ford Madox Brown, Vincent van Gogh, Auguste Rodin, Claude Monet, Paul Cézanne and Camille Pissarro. It must surely rank as one of the most significant public collections of art in all of Australia.