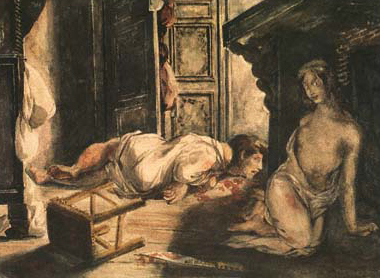 Buy Art Prints Now
from Amazon
* As an Amazon Associate, and partner with Google Adsense and Ezoic, I earn from qualifying purchases.
The Bride of Lammermoor was a novel by Sir Walter Scott which was published in 1819. This piece of literature would then inspire the painting that is displayed here, which Eugene Delacroix completed in 1826.
The artist would regularly make use of literature elements as inspiration for his paintings, some of which was classical with others being more modern. He studied English literature with particular interest having made several visits to the country over a period of several years. Shakespeare, for example, was particularly well known to him, with characters such as Hamlet also appearing in some of his paintings. Delacroix also drew inspiration from some English painters, with Constable impressing him the most of all. That member of the Romanticist movement was typical of the English School and would gift us the likes of The Hay Wain, Flatford Mill and Dedham Lock and Mill. His landscape style would then appear in Delacroix's other compositions, with the Frenchman regularly featuring dramatic backdrops to figurative content that would dominate the foreground.
The scene captured by Delacroix tells of how a love-triangle eventually ends in death and tragedy. Lucy stabs Bucklaw in the bridal chamber towards the end of the novel and although he survives, she descends into madness as a result. This seems to be the part of the story pictured here, although the images available of the original painting are not particularly clear and we cannot identify the painting's current location. It is interesting to see English influence on French art through both literature and art and that is what occurred during the Romanticist era, though it must be mentioned that, of course, there was also considerable influence going in the opposite direction as well, which would continue in later centuries with the Impressionist and Post-Impressionist artists that followed on later.
Literary painting was an important genre within Delacroix's career, though it must be remembered that he took in a good variety of genres and influences across his oeuvre. For example, he would sit in zoos sketching animals for hours before then adding them into other paintings and he also studied landscape art in good detail too. Additionally, movement became an integral part of his work and this required figurative work that developed through regular portrait paintings. Delacroix rose to become one of the most celebrated French artists in history and is today seen as one of the biggest names on display in the Louvre Museum in Paris.