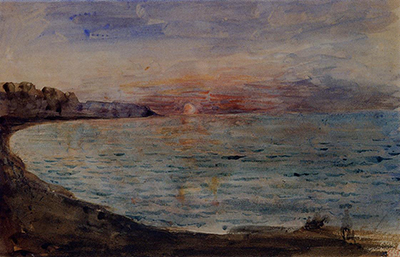 Buy Art Prints Now
from Amazon
* As an Amazon Associate, and partner with Google Adsense and Ezoic, I earn from qualifying purchases.
This seascape painting is loosely dated as being from 1852-1855. It is a relatively rare venture into this genre for artist Delacroix who was more famous for his Romanticist history paintings, such as the iconic Liberty Leading the People.
Those fortunate enough to see this artwork up close at the Musée Marmottan Monet, Paris, France will immediately notice the hallmarks of watercolour brushwork. There is a stunning array of bright colours which help us to understand as to how Delacroix was known to have inspired some members of the Impressionist group, even though he took on the landscape genre so infrequently. It was his colours that delighted so many, and his bright tones of red would become particularly famous. Whilst this initially shocked some academics, others immediately saw the Romanticist movement as representing the future of art, and they were entirely right in that assumption. If we study this artwork we find a coast sweeping around the left hand side, with the sun setting in the centre of the composition. A fisherman can be seen, faintly, in the bottom right of the piece, with his fishing rod sat up whilst he relaxes and looks out to sea in this stunning environment.
Watercolours were found within a good number of Delacroix's paintings, but not much within his more famous, extravagant works. It was a medium used prominently within French and British art, though most oil painters would spend time experimenting with it at different points in their career. It felt particularly suitable for landscape and seascape painting, which is perhaps why Delacroix uses it here. There is a looseness and lack of detail that provides a different atmosphere to this piece, as compared to most of the artist's more high profile work.
The Musée Marmottan Monet may not always have this piece on display, so all ahead if you are specifically wanting to see it in person. Their own collection is considerable, and larger than their own display capacity, meaning that, like most major art galleries and museums, they are forced to rotate their collections from time to time, as well as loaning out pieces to other locations for exhibitions and research studies. They again focus on French art, as with so many wonderful galleries within France, and tend to cover the 19th century in the most detail. You will also find the likes of Berthe Morisot, Edgar Degas, Édouard Manet, Alfred Sisley, Camille Pissarro, Paul Gauguin and Pierre-Auguste Renoir here, to name just a few. Above all else, though, is the beautiful and critically significant Impression, Sunrise by Claude Monet which helped to bring about the Impressionist movement, and even provided the inspiration for its name. One can see a clear similarity between that painting of 1872 and this earlier seascape from Eugene Delacroix of around two decades earlier.