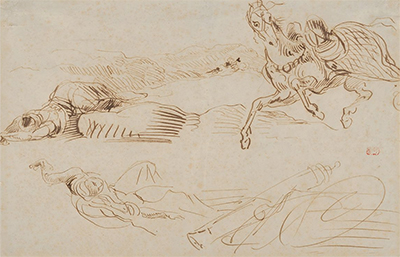 Buy Art Prints Now
from Amazon
* As an Amazon Associate, and partner with Google Adsense and Ezoic, I earn from qualifying purchases.
The titles used by Delacroix for his drawings would tend to be more descriptive than his paintings, though some of these may have been added by those documenting his career output at a later date.
This drawing represents an insight into the artist's style right at the end of his career. By now he had travelled through a decade of learning as a young student and then practiced his art for many decades, taking in a variety of art movements and different mediums over a long career. He could now work almost without thinking, with technical concerns committed to memory, allowing him to produce art purely from his creative mind. This was the point that he had always wanted to reach, and was achieved through hard work, practice and continual copying. The themes found in this drawing, Fallen Warriors and a Runaway Horse, are also particularly common to his career and serve as a suitable summary of many of his memorable talents as an artist.
The study piece here was practice for two later paintings, namely Botzaris Attacks the Turkish Camp and Arabs Skirmishing in the Mountains. They were finished between 1860 and 1863. Delacroix was particularly focuses on battle scenes at this time and had always felt that this content was ideal for the Romanticist approach. It could deliver strong emotions within an entire, complex composition and also allowed him to display his skills in capturing historic fashion, weaponry and also portraits of horses, as found here. He went to great lengths to accurately understand and depict all manner of animals across his career, with the most common being horses, lions and tigers. He even visited zoos from time to time in order to study the more exotic creatures that were not readily available in the French countryside.
In terms of style, Delacroix in his later life would work fluidly and confidently with his pen. Much was already engrained in his mind, in terms of his technical work, and so he could quickly put together forms of horses and soldiers. In this case he was working on a dramatic scene with dead soldiers strewn around, with traumatised horses running for cover or safety. He would also be looking to create a feeling of movement and tension in a static drawing which took practice and understanding. These looser drawings may have been the earlier stages of his study process, with a relaxed approach to essentially flesh-out a rough layout and form before producing more precise drawings later on.