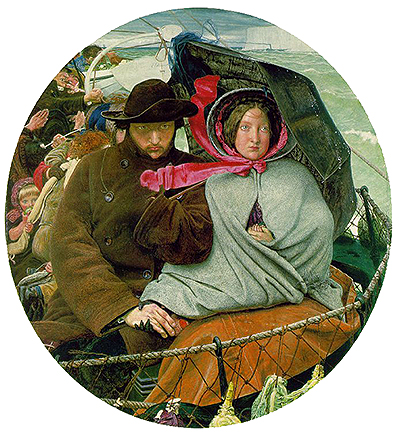 Buy Art Prints Now
from Amazon
* As an Amazon Associate, and partner with Google Adsense and Ezoic, I earn from qualifying purchases.
Brown painted this painting in 1855, and it is displayed in the Birmingham Museum and Art Gallery. Ford's friend and sculptor Thomas Woolner was behind the inspiration of the picture.
Thomas Woolner left England in 1852 with his family for Australia. At the time as well, over 350,000 people emigrated from England to different parts of the world. The emigration of his friends and many other people was what drew Ford in creating the masterpiece that still gets acknowledgment centuries down the line. In the year 2013, the last of England was the 8th Favourite painting in Britain by BBC radio.
The painting is done in an oval shape, which is different from other arts that centre in a square or rectangular frame. The two main characters, a man and a woman, are seen looking ahead with hard expressions on their faces. Behind them there is a frenzy of activities, there are a lot more people, food and events all emigrating England. The two main characters represent Madox and his wife, Emma. The two are painted to look like they have no remorse whatsoever for leaving England. They have not bound to anything back there and that their future is still ahead of them.
A lot of themes are depicted in this painting. In the art, there are books in the background that show that Madox and his wife Emma were an educated lot. They came from a middle-class ranking and, therefore, not bound to England in any way. On the boat, cabbages and other foods are hanging on the sides. The food goes to show that the journey will be long, and they need all the food they have to survive. Madox continues to explain the situation of the trip by painting the sky a dull grey colour depicting the coming, unforgiving rains with nothing protecting them than a little umbrella. From the picture, you are also able to see another family, a small baby, his mother, and a sister.
The shape of the painting is oval. Nicholas Penny compared the look of the picture as the image you get when you observe using a telescope. Some find that the shape can mean blocking out the past, England, and concentrating on the future. The background of the picture is less detailed, with a significant focus on the two main characters that are looking forward. Ford used oil on his wood canvas to showcase movement properly. The change from the wind, the boat, and the sea is depicted correctly because of the use of oil.