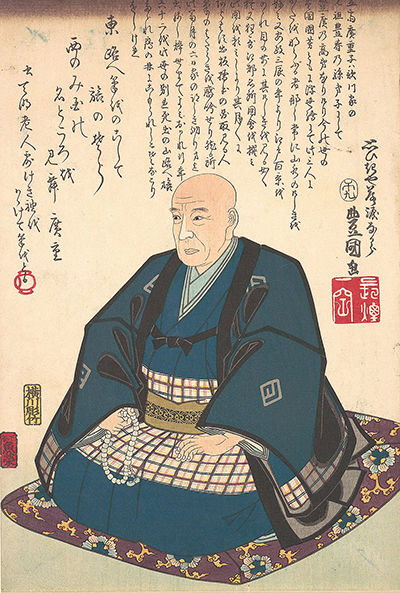 Buy Art Prints Now
from Amazon
* As an Amazon Associate, and partner with Google Adsense and Ezoic, I earn from qualifying purchases.
Ando Hiroshige was a Japanese ukiyo-e artist born in the very late 18th century. He produced a number of highly influential series of landscape paintings which inspired a number of significant European painters.
The artist arrived towards the end of the ukiyo-e era, and would strive to take its techniques as far as they could go, just before tastes changed and the public's attention was diverted elsewhere.
He took inspiration from its earlier exponents and offered more complex techniques, where more colors would be used in a highly labor-intensive approach. The results were extraordinary, but also meant that Hiroshige could not have the same output as other artists.
His work was imported into Europe and immediately struck a chord with contemporary artists in the 19th century who would often copy elements of his work in order to understand the artist's techniques. His use of color and composition was particularly of interest to the likes of Monet, Van Gogh and Whistler who were very open about their admiration for his work, as well as a number of other Japanese artists whose work had been imported into the region.
Additionally, he drew attention to the beauty of the Japanese landscape, capturing its rolling hills and abundance of nature in a number of breathtaking series, such as The Fifty-three Stations of the Tōkaidō and for his vertical-format landscape series One Hundred Famous Views of Edo.
Early Life
The artist was born in 1797 in Edo, present day Tokyo. His father, Gen'emon, worked as a fire officer, but relatively little is known about his mother. Sadly, the artist's parents both passed away before he had even reached his teens, as did one of his three sisters. Perhaps in order to deal with these tragic events, Hiroshige turned to painting soon after.
There is no evidence of any previous family involvement in the creative industry, and so it is hard to determine as to where his initial motivation would come from, other than potentially an attempt to distract and sooth his mind. He was accepted into the Utagawa school and from this point would receive expert training in traditional Japanese art as well as coming into contact with techniques found in Chinese and Western art.
Mature Period
Hiroshige was highly prolific across his lifetime, producing over 8,000 artworks across his career. He initially focused on figurative portraits before switching to landscape painting in the early 1830s. The artist traveled around Japan at this time and would record his discoveries within his work. This enabled him to connect more closely with the environments featured in his prints, and also to provide unique landscapes that other artists were entirely unaware of.
This shift in content also marked his departure from his artistic schooling, and a new desire to forge his own unique path which was based around his own artistic tastes. That it brought him the opportunity to travel to some of his region's most beautiful landscapes was an added bonus.
Fortunately, his life as a professional artist also coincided with a booming industry in printmaking, which brought plenty of demand to his door, even if he would not profit from it quite as much as other artists of that time. He would continue with his focus on landscape art throughout the rest of his career, and became famed for his clever use of composition and color.
Eventually his reputation would even spread abroad, with a cultural exchange starting to flourish between Japan and the rest of the world.
In order to continue the legacy of Japanese art schooling, and to repay the opportunities given to Hiroshige by the Utagawa school several decades earlier, the artist decided to start up his own studio from which he could teach the next generation of artists.
Utagawa Shigemaru, Utagawa Shigekiyo, and Utagawa Hirokage, as well as a number of artists who named themselves after their great master would pass through his tutelage and form successful careers of their own. The majority of their work shows clear similarities with that of their master, and few chose to forge their own unique paths once they turned professional.
Major Series
The Fifty-three Stations of the Tōkaidō was produced by Hiroshige in 1832, which was fairly soon after his switch to landscape painting. The content was entirely inspired by his travels along the Tōkaidō road, which runs from Edo to Kyōto, in the same year. The series of prints proved so popular that the artist rolled out over 30 different iterations of it in the years that followed.
Most of the compositions in this series captured land and sea in harmony and included mountains, rivers, forests, bridges and fishing boats.
One Hundred Famous Views of Edo arrived right at the end of the artist's career and marked the summit of his talents, after decades of education and experimentation. Sadly, it was necessary for the artist's assistants to complete some of the series after he passed away prematurely, but his role was still dominant within the overall project.
He chose to work in a vertical format which differed from much of what had gone before, and also required some compositional tricks when working within the landscape genre. This iconic series of woodblock prints continues to be re-printed in the present day, many centuries after first being put together by Hiroshige, as his parting gift to the world of art.
Legacy
Hiroshige died on the 12th of October, 1858. He would have been in his early sixties at the time. He was buried at the Zen Buddhist temple in Asakusa, having become a Buddhist monk himself just two years earlier. He had lifted a relatively private life in his later years, though continued to work right up until his death.
The artist never lost his passion for his craft, but was also forced to continue working because he was not able to make the same amounts of money as other artists from his period. Ultimately, the artist was to enjoy greater success internationally than he did locally, leaving a considerable influence on the pivotal period in European art known as the Impressionist era. Two of his famous series of designs, The Fifty-three Stations of the Tōkaidō (1833–1834) and One Hundred Famous Views of Edo (1856–1858), could be easily printed and distributed globally, meaning that his chosen art form was better suited to promoting his reputation abroad as opposed to oil painting or sculpture.
Although the artist would not profit financially from this interest abroad, it did strengthen his legacy considerably, and alter his status from being a respected Japanese painter to an influential global icon whose career highlights would be studied and copied relentlessly.