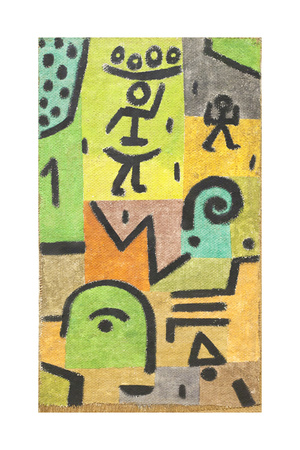 Buy Art Prints Now
from Amazon
* As an Amazon Associate, and partner with Google Adsense and Ezoic, I earn from qualifying purchases.
Lemon Harvest combinese abstract art and primitive influences
This colorful and bright painting is simple yet stunning. He has created colorful squares and shapes on the background with bold black symbols, figures of men and lines. His use of geometrical symbols provides a depth to his work which can be seen underlying the childlike style.
Although the painting is expressing what Klee called a Lemon Harvest everyone portrays it differently. This is an elegant and modern piece to hang on any wall and will take a proud center spot which will impress art lovers.
His tremendous techniques and use of colors is something which only a professional artist with experience can create.
Through trial, error and repetitive dabbing and dotting this bold painting has taken it's stand in history. This sleek piece of abstract art is available in both print and poster form.
His artwork has proven to be legendary for his time, using new and unique techniques that weren't classed as standard. His style bought abstract to a new level and his childlike paintings were sometimes frowned upon.
Today his paintings serve as an inspiration to many aspiring artists and are used as a stunning example of how he changed the way art was created, formed and portrayed. His use of color and ideas brings his artwork to life. His notable painting, 'Lemon Harvest' is one of his original pieces of art that is classed also as one of his best.