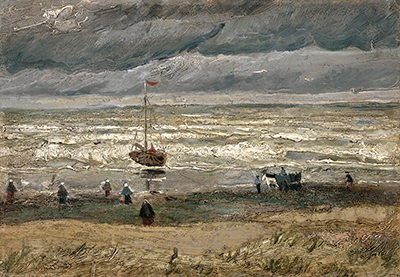 Buy Art Prints Now
from Amazon
* As an Amazon Associate, and partner with Google Adsense and Ezoic, I earn from qualifying purchases.
View of the Sea at Scheveningen is oil on canvas painting completed in 1882. It is a small painting measuring 13.6 by 20.1 inches. The painting depicted the beach in stormy weather. Van Gogh created the artwork on-site with the wind blowing sand his way.
Legend has it that it almost blew him off while implanting sand particles on the canvas. Women can be viewed heading home while a group of men uses a horse cart to pull a fishing boat from the sea. Van Gogh started this artwork in 1881, but later abandoned the project for a live painting that he completed on the site in August 1882.
The inspiration for this painting was van Gogh's experience of Scheveningen, which was a fishing village he frequented while he lived in The Hague. Van Gogh believed that a good painter should be adept at drawing figures and sketching landscapes. This approach made him effective at recreating scenery before imbuing it with life through the use of color. Van Gogh was a follower of impressionism and used elements of this movement in this composition, such as capturing the sea and the activities happening on the foreground.
Most of his early works were melancholic, but the encounter with impressionist paintings in Paris influenced him to adopt this style. He started using light shades and broken brushstrokes popular with impressionists. The artwork is consistent with the style used by Impressionists in The Hague School, such as Panorama of Scheveningen by Hendrik Mesdag and Poppies by Claude Monet. The movement emphasized the depiction of natural light and movement as essential aspects of painting. Their paintings also resembled photographs of events unraveling in real-time.
Van Gogh had a penchant for using vigorous brushstrokes and drastic color variations to impart character, movement, and dynamic tension to his paintings. The painting features three horizontal lines of different shades to distinguish the shore from the sea and the skyline. The sea is a mixture of grey and white colors depicting raging waves heading for the beach. The use of varying shades is evident in his other paintings, such as The Courtesan and Cafe Terrace at Night.
The style of using color to create tension is consistent with works, such as The Starry Night and Wheatfield with Crows. This piece was stolen from the Van Gogh Museum in 2002, together with another one of his paintings called Congregation Leaving the Reformed Church in Nuenen. It was missing for 13 years before being discovered in a criminal hideout near Naples, Italy, in 2016. The artwork was under reconstruction until early 2017. The painting is the property of the Van Gogh Museum in Amsterdam, where visitors can view it on display.