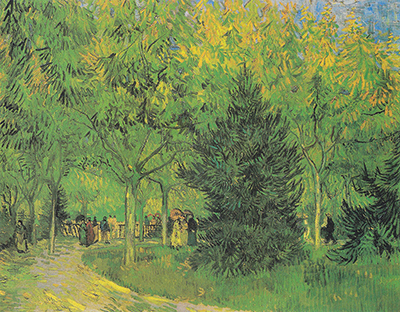 Buy Art Prints Now
from Amazon
* As an Amazon Associate, and partner with Google Adsense and Ezoic, I earn from qualifying purchases.
A Lane in the Public Garden at Arles is a painting that was done in 1888 by Vincent Van Gogh. The drawing is about a lane that runs right through the public garden in Arles. As of the time of writing, the painting is kept at the Kroller-Muller Museum in the Netherlands.
Description
The lane in the drawing is surrounded by many trees in varying shades of yellow and green, and it seems to depict the period when fall replaces the summer. There are people walking out in the lane while bathing in a beautiful environment and a blue sky.
A Lane in the Public Garden is a sure indication of Vincent van Gogh's ability to understand the impact that colour can have on people's lives. He perfectly blends the blue sky, yellow, green, and some stones along the lane to take his message home.
The artist created the painting in mid-September, just a few days after viewing the park, The Poet's Garden. It is believed that there are many other works in which the artist included the garden.
The Magnificence of the Lane
This is one lane that would make you feel like jumping in and taking a walk. The picture manifests a normal day at the park when the environment is calm and welcoming. The one thing that sets the work apart from other painters is how Gogh changes from simple to sublime. The colours are glorious, and they are merged into one perfect painting.
Green is not a colour that you would always associate with Vincent Van Gogh. Most of his paintings are yellow, but in a lane in the public garden, he does make the green colour look special. The colour varies from one part of the painting to another. There is a lot to say about the painting. For instance, the way Vincent manifests the bright, dazzling outlook of his personality is more than amazing. Studying the painting, anyone can easily see that there is more to the picture than just a normal day with clear blue skies.
It is accurate to state that Vincent Van Gogh's work is mostly inspired by nature. Through his creativity, he brought a huge positive impact on the world, and that is something he will be remembered for in many decades to come. He is undoubtedly one of the most potent individuals the world has ever seen.