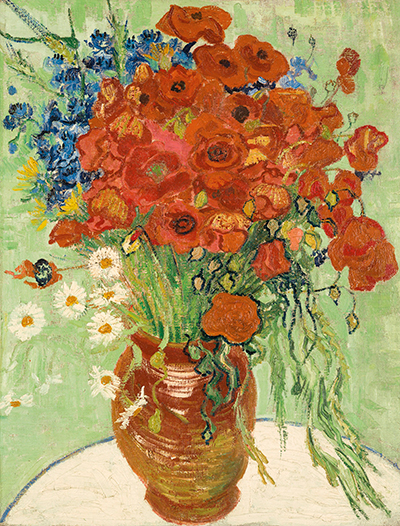 Buy Art Prints Now
from Amazon
* As an Amazon Associate, and partner with Google Adsense and Ezoic, I earn from qualifying purchases.
For a better part of his life, Vincent van Gogh concentrated on figure studies and self-portraits as a representation of the human form. However, during his visit to Paris, in 1886, he learnt new Impressionism and Post-impressionism skills.
Through the learned skills, he realised how to use vibrant and bright colours to give his art a new twist. One of the most famous pieces of art where he used the new skills is the Vase with Cornflowers and Poppies.
Content
Painted in 1886, this oil on canvas painting is characterised by a perfect blend of colour and brushwork. Against a faintly painted blue background, Van Gogh painted a vase with a bouquet of intensely coloured blue cornflowers, bright red poppies and creamy white marguerites. The narrow vase with an eye-catching combination of vibrant flowers is placed on a loosely defined shimmering surface. It is perhaps the most exuberant and brilliant of its kind.
Theme
The vibrant colours of the cornflowers, poppies and marguerites indicate flowers in bloom. It is an illustration of the summer season where the fields are filled with vibrant colours from the plants' flowers.
Location
Van Gogh made this famous piece in 1887 while on a visit to Paris. He painted it after learning a couple of skills on how to use vibrant colours in his art. The learned skill was indeed impressive as this panting became one of his most famous pieces of art. Van Gogh had a great love for flowers and thus the summer season in Paris was a great inspiration for this piece.
Related Artwork
In addition to this vase with flowers painting, he also made other related pieces which include: Wheatfield with a Lark: Van Gogh uniquely crafted this piece of art in 1887 while still residing in Paris. The piece depicts a partially harvested field of wheat stretching below a sky dominated by light clouds. He also included a lark flying towards the left side of the wheat field. It is a typical illustration of a wheat field.
A Woman Walking in a Garden: This is another exuberant piece by Van Gogh, painted in Paris in 1887. It shows a woman walking through a garden filled with green blooming plants. In the background, are tall standing trees adding to the beauty of the piece. It offers a sight depicting a typical woman tendering her garden. It is a sight to behold.
Inspirations - Van Gogh received his inspiration from various Paris artists' including; Bernard, Gauguin, Monet and Pissarro. He learnt the Impressionism and Post-impressionism skills from these experienced artists. The adopted skills gave his artwork a new twist making it more popular among art lovers.