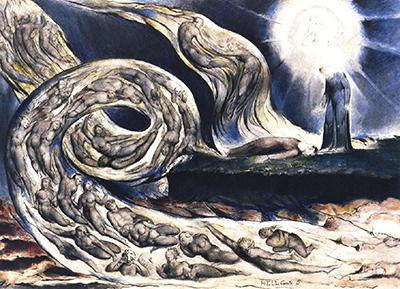 Buy Art Prints Now
from Amazon
* As an Amazon Associate, and partner with Google Adsense and Ezoic, I earn from qualifying purchases.
William Blake was an English painter, printer, and poet who lived during the 18th century. He was inspired to create the work The Lovers Whirlwind after reading a script by Dante. Blake created a series of illustrations and paintings which were inspired by Dante's Divine Comedy.
These include The Lovers Whirlwind, which was an illustration created in pen and watercolour. As well as some smaller etchings and line drawings the most famous being The Circle of the Lustful. Blake painted The Lovers Whirlwind in a surrealist style in 1827, shortly before his death. It depicts the sinful bodies of lovers rising to heaven. The painting measures 530 x 374 cm, and the original is displayed in the City Museum and Art Gallery in Birmingham.
Blake created engravings and illustrations for The Book of Job, the earliest book to be written in the Old Testament part of the Bible. This proved to be a great success, and he was later commissioned to create art, which was to be turned into prints of the Dante series. Unfortunately, Blake died in 1827 before he was able to finish the commission. He had only managed to creates seven of the illustrations. The Lovers Whirlwind illustrates Hell and is a scene from Canto five. During this scene, Virgil shows Dante a vision of people who had been so affected by love that they had died whom love bereav'd of life.
The story that's been illustrated is about Paolo and Francesca. Francesca was the daughter of a 13th-century lord who had fallen in love with her husband's brother, Paolo. Her husband was furious and betrayed and so ordered that they should both be killed. The painting shows Virgil standing on the shores, watching a whirlwind of spirits. Above his head in the sun is the spirts of Paolo and Francesca, who have been reunited. You can see the body of Dante lying on the ground as he became so overwhelmed with compassion that he fainted.
Before creating this watercolour and pen illustration, Blake made a sketch in preparation. The image was also used as the basis for an etching, which shows the same scene in highly rendered detail. Blake has been able to create an image that is both eye-catching and thought-provoking. William Blake was born on the 28th of November 1757 and was the third of seven children. He died in 1827, aged 70. During his life, his work was mostly unrecognised. He is now considered an important figure in the history of both poetry and visual arts.