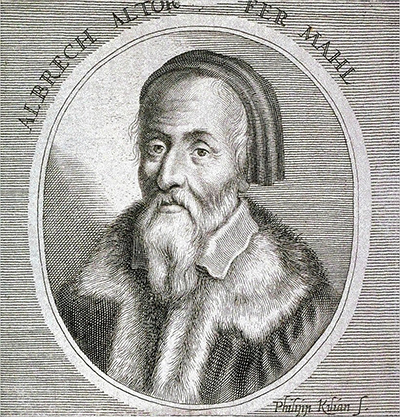 Buy Art Prints Now
from Amazon
* As an Amazon Associate, and partner with Google Adsense and Ezoic, I earn from qualifying purchases.
Albrecht Altdorfer was a skilled artist who produced highly respected paintings, drawings and etchings in the early part of 16th century Germany. He is most famous for his breathtaking landscape scenes featuring large numbers of carefully crafted figures.
This famous artist played a key role in the advancement of Northern Renaissance art and, in particular, landscape painting. Depictions of nature had always been used as supporting elements to larger compositions before artists such as this promoted it as a worthy art form which should be respected as an independant art form in its own right. Some of his larger landscape paintings contain an incredible amount of detail, with huge numbers of full length figures dotted around each composition, similar to the work of Pieter Bruegel, Hendrick Avercamp and Hieronymus Bosch.
A young Albrecht would take inspiration from his father, also an artist, and this influence set him along a path that ultimately would lead to him being a key member of the Danube School, a significant strand of the Northern Renaissance. It also counted Lucas Cranach the Elder and Wolf Huber within its ranks. At this time German artists were playing an important role supporting the great masters of the Netherlandish regions in strengthening the impact of this part of Europe's contribution to an important time in artistic development across the whole continent.
Whilst some of Albrecht Altdorfer's paintings, such as The Battle of Alexander at Issus, featured a whole plethora of complex scenes of crowds of figures, the majority of his work was actually much simpler, sometimes relying purely on the landscape skills of this groundbreaking painter. He would continue this into the mediums of drawing, etching and woodcuts too. Most significantly, this artist is considered to be the first of the modern landscape painters, promoting this genre at a time when others dominated with allegorical depictions or half-length portraits of monarchs and noblemen.