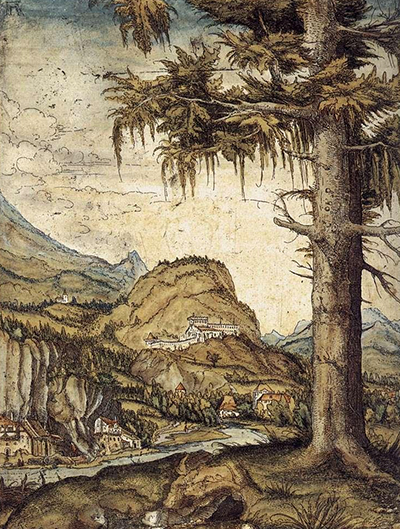 Buy Art Prints Now
from Amazon
* As an Amazon Associate, and partner with Google Adsense and Ezoic, I earn from qualifying purchases.
Etchings were an important medium for Albrecht Altdorfer in several ways, most significantly in that he could finance his other work by selling reproductions of his work to the German masses and spread his own reputation far and wide at the same time.
Albrecht Altdorfer was predominantly a painter of landscape scenes and occasionally themes of a religious nature. But what about his work with etchings? This medium was developing rapidly during the time of his career and several different techniques for turning drawn designs into printed reproductions had appeared from Bavarian regions of Germany plus neighbouring Austria.
The artist would sometimes add touches of colour to his prints just as he sometimes added pen to completed paintings in order to provide a sharpened edge to key objects of the composition. A single etching could be used to create all manner of variations and helped provide a steady income whilst widening an artist's reputation into other areas of society. Many members of the Danube School used etching for the very same purposes.
Wolf Hubert was perhaps the finest etcher within the Danube School whilst Altdorfer tended to concentrate more on painting and as a result they built a collaborative relationship where each would learn off each other in the skills in which they spent less energy. Whilst a fine draughtsman and well skilled in etching, Altdorfer knew that he could develop his work in this medium by learning from someone who really specialised in it and whose passion was most in it.
When viewing the main image that we have included here - namely a etching printed and then colour added afterwards - it really reminds us of the work of Japanese landscape painters such as Hokusai who famously gave us The Great Wave off Kanagawa or perhaps other artists such as Morita, Ando Hiroshige and Utamaro Kitagawa. In later centuries there were many European artists who collected Japanese art but certainly not as this stage, which is intruiging for an artist who rarely left his native Germany, if ever.