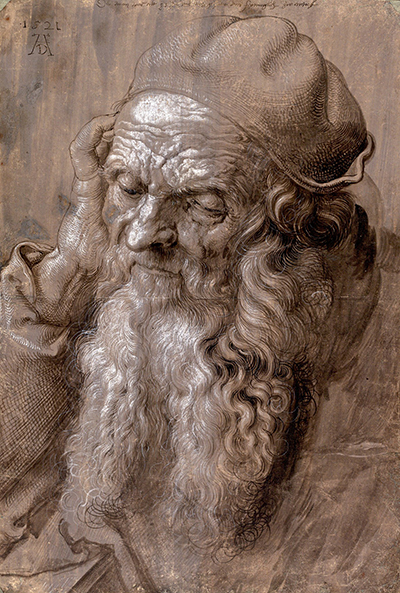 Buy Art Prints Now
from Amazon
* As an Amazon Associate, and partner with Google Adsense and Ezoic, I earn from qualifying purchases.
Portraits of the aged have been popular with artists for centuries, because of the way in which these elderly faces display so much about the subject's life and present condition.
This study of a man aged 93, as described by Durer in his notes for this drawing, was completed as a brush drawing on prepared paper. Different photographs of this artwork have suggested different colours of paper, but a visit to see the original drawing at the Albertina in Vienna will confirm that it is a blend of violet and grey.
The artist's own touches produce an eye catching drawing, way beyond the levels of detail normally seen in what is, essentially, a study sketch. Whilst preparing for the portrait of St Jerome, which now resides in the Museu Nacional de Arte Antiga in Lisbon, Portugal, Durer made use of an elderly man from Antwerp in order to make several study pieces.
Durer used white heightening to draw out elements of light to the left hand side of the work, providing contrast and depth to this honest depiction. The right hand side is somewhat darker, allowing a shadow to fall across the subject. The lighter areas draw the eye particularly towards the man's beard and also his nose which stands out prominently.
Albrecht Durer was just one of a number of highly skilled members of the Renaissance who impressed in several different artistic disciplines. Related artists who are well worthy of note include Pieter Bruegel the Elder, Peter Paul Rubens and Rembrandt whose own drawings were also particularly enchanting and significant in their overall method of production.