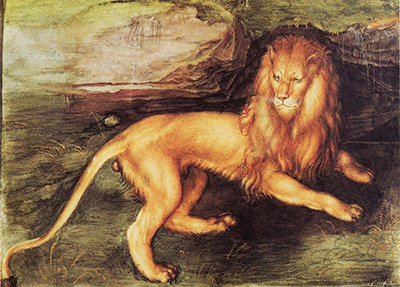 Buy Art Prints Now
from Amazon
* As an Amazon Associate, and partner with Google Adsense and Ezoic, I earn from qualifying purchases.
A lion is an animal painting painted by Albrecht Durer in the year 1494. The painting has a dimension of 12.6×17.2cm and portrays an image of a fierce lion walking while facing the viewer. The lion has a deep-chested body, short rounded head, round ears, muscular and hairy tuft at its tail.
The land is grassy, and the viewer can see a small water body from a distance. Albrecht Durer used the Renaissance style of art for the lion painting. The Renaissance era featured an original understanding of man's character and his environment. This style was an aspiration to recognize real-life and express its beauty and contrast through art. Artists use it to add landscapes to their subjects by placing them on their background, portraying a realistic work. The style also gives paintings softened lines and forms a depiction of dispersed light. Albrecht Durer used this style to depict reality as anyone can see it.
A lion painting currently is located at Hamburger Kunsthalle, Hamburg. The museum has almost 700 years of art from different prominent artists from Germany. Albrecht Durer had mastered the renaissance style and was aware of his talent. Durer was influenced first by his father, a goldsmith, and his godfather Anton Koberger who later became a painter. Through his father, he learned about mathematics but had a passion for painting. At the age of 15, Durer acquired skills during an apprenticeship with the famous woodcutter and painter Michael Wolgemut.
Durer's friend, Willibald Pirckheimer, also helped him through advice on artwork about the world. He got more influenced during his two times journey to Italy, where he got a chance to view prominent art workers like Lorenzo di Credi, Mantegna and Antonio Pollaiuolo and many others. After the great exposure, Durer noted Giovanni Bellini artistic work was his best and inspired him most. The works of Martin Luther also attracted Durer and made him compassionate to the ideas he proposed about the Reformation. This feeling made him do some paintings like the evangelical and Protestant sympathies. Durer, a multitalented artist in watercolour painting and oil painting, had many artworks. Some of his essential artworks include the Young Hare, Adam and Eve, Praying Hands, Saint Jerome in his Study, The Four Apostles and many more.