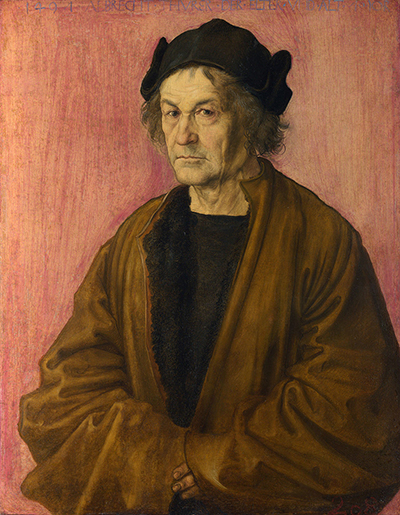 Buy Art Prints Now
from Amazon
* As an Amazon Associate, and partner with Google Adsense and Ezoic, I earn from qualifying purchases.
Portrait of Durer's Father at 70 is an artwork by Albrecht Durer from 1497 which now resides within the National Gallery in London, UK. It is one of a number of portraits produced by the son of his Hungarian father over a period of many years.
Albrecht Dürer the Elder with a Rosary arrived around seven years before this iteration and the artist would also produce a number of self portraits too, which help to bring his career to life as we peer into the eyes of this extraordinary character. His best known portraits remains Self-Portrait at the Age of Twenty Eight which came around three years after this painting of his father. Within Portrait of Durer's Father at 70 we find an elderly man staring at us in humble clothing, with a serious expression and reserved manner. He wears a long brown coat which is devoid of significant touches of fashion detail, with a black shirt showing through from underneath. His head is covered with a simple black hat and the background behind is a pink tone, though with variation in how the paint has been applied, possibly due to the impact of the conditions in which the painting has been stored since. Since its appearance in the collection of the National Gallery, considerable efforts have been made in order to protect and preserve the item to a higher level than perhaps had been achieved before.
Some of Durer's portraits were small, with this one sized at just over 50cm in height, and conforming to the standard aspect ratio of a traditional portrait. The slightly strange title given to this piece, rather than simply calling it Portrait of the Artist's Father (1497) comes directly from the inscribed lettering which can be found at the top of the painting. Durer would often leave lettering with his artworks and even sometimes added heraldry alongside which gave a stunning finish. A comparison between this painting and the earlier one indicate that the artist's father would have aged considerably in just a few years, perhaps as his health may have been deteriorating. We must not forget that by the standards of the time, he would have been particularly elderly at 70, more so than he would be considered today because of the longer life expectancies that we now enjoy. The precision of the artist allows us to see every last detail in his father's face, including an great increase in wrinkles from the earlier piece. We do know that the elder would experience a tougher life than his son, and eventually these experiences would take their toll, with him passing away around five years after this painting was completed.
The National Gallery hosts several Albrecht Durer paintings within its permanent collection and also hosted an impressive exhibition of his work as recently as 2021, though this display was also featured in other countries as well over an extended period of time. Saint Jerome and The Madonna with the Iris are the two other major artworks to be found here and this venue remains one of the finest selections of work from the Renaissance era up to around the 19th century, anywhere in the world. London itself is spoilt by a whole host of different art galleries and museums which help to keep it as one of the most popular cities for foreign visitors in the world, with most offering free entry to see their permanent collections, enabling anyone from the local communities to learn about cultural themes whatever their own background. They also regularly offer exciting exhibitions, such as the one on Durer, which are generally put on for several months at a time before the artworks are then returned to their owners.