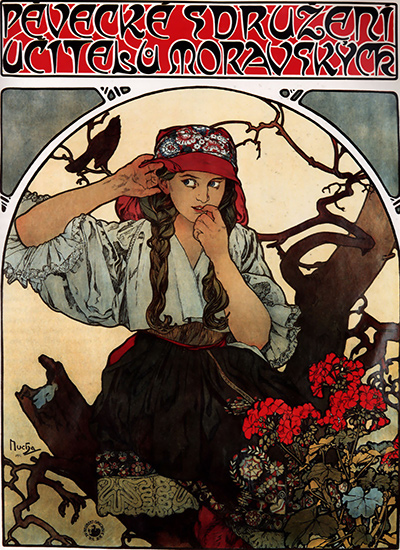 Buy Art Prints Now
from Amazon
* As an Amazon Associate, and partner with Google Adsense and Ezoic, I earn from qualifying purchases.
Painted in 1911, Moravian Teachers' Choir reflects Alphonse Mucha's move away from the advertising work produced in Paris to his more nationalistic work as he resettled in Prague.
Born in Moravia (now part of the Czech Republic) in 1860, Mucha established himself as an artist, moving between Brno, Vienna and Moravia before settling in Paris in 1887 in order to study further.
In part he supported himself by taking on advertising work, producing pieces for plays, champagne bottles, cigarette papers and biscuits amongst others, all in his classic Art Nouveau style.
Mucha returned to Prague in 1910, after his marriage, keen to demonstrate that he hadn't sold out. Mucha was a nationalist and a proponent of Slavic causes. Moravian Teachers' Choir was borne out of this and was produced just before he began his masterpiece The Slav Epic.
The Moravian Teachers' Choir was a world renowned and professional group. Their wide repertoire included traditional Moravian songs along with popular tunes of the day and works by Leoš Janáček, a school friend of Mucha's. This very much fitted with Mucha's desire to show he was still essentially Slavic.
The picture represents a change in Mucha's focus in keeping with this change in how he wanted to be viewed. Gone are the Art Nouveau swirls and decoration he was famed for. Instead of a passive, unobtainable woman the image shows a girl in traditional Moravian folk dress who has climbed a tree.
The girl is listening carefully to a songbird who she is sitting beside. She is both enjoying what she is hearing whilst looking also looking concerned- possibly because at any second the song bird could be gone. This is the perfect introduction to the work of the choir: something unmissable and to be savoured.