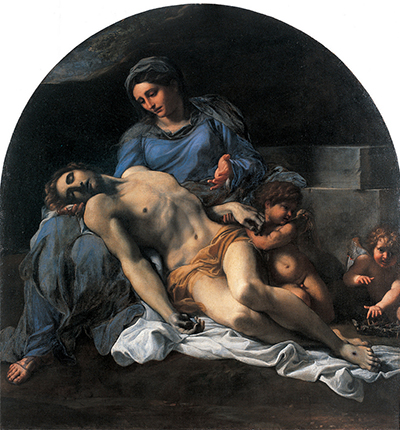 Buy Art Prints Now
from Amazon
* As an Amazon Associate, and partner with Google Adsense and Ezoic, I earn from qualifying purchases.
Pieta is one of the most iconic images to have been inspired by passages from the Holy Bible and countless artists have made use of it in their own work. In this example it is the turn of Annibale Carracci to cover this theme.
We believe that this painting was originally commissioned by Odoardo Farnese and was completed by Carracci in around the year 1600. He would produce several different depictions of Pieta during his career, in several different mediums, but this was certainly the first oil painting on this topic. The donor's investments would later become the Farnese Collection which is now found in the National Museum of Capodimonte in Naples, having moved several times around the Republic of Italy.
The most famous depiction of Pieta was actually produced in the form of sculpture, where Michelangelo made use of his triangular layout to produce one of the finest works in this medium in history. Joining him, there were also notable paintings contributed from the likes of Rogier van der Weyden, Eugene Delacroix, Bronzino, William-Adolphe Bouguereau, El Greco and Titian. Carracci's own certainly ranks highly within his own career's output and is believed to have been inspired directly by the likes of Correggio and Michelangelo.
Annibale Carracci's version is particularly personal, capturing a close-knit composition. There is a curved top to the piece which would have been added as part of the installation requirements. The flesh tones of Christ, and the way in which the lighting balances across his body is exceptionally lifelike. The resultant work is powerful and retrieves an emotional response from most viewers.