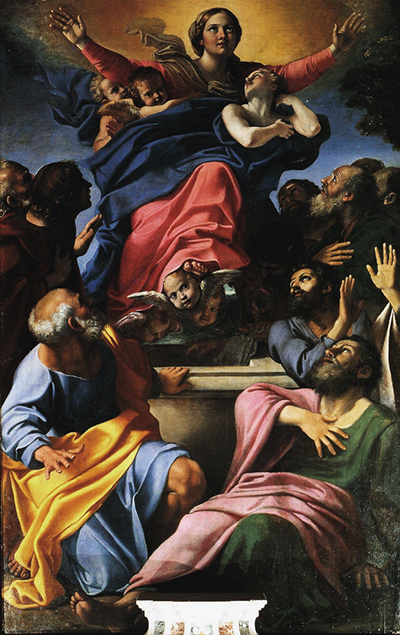 Buy Art Prints Now
from Amazon
* As an Amazon Associate, and partner with Google Adsense and Ezoic, I earn from qualifying purchases.
Annibale Carracci played a significant role in an artistic family dynasty which contributed to the development of Baroque art in Bologna and Rome.
The artist's work was interlinked with that of brother Agostino and cousin Lodovico. Italy was very much a divided country at this stage, known then as the Papal States, but artistically there was crossover between the regions. The Carraccis would draw influence from other neighbouring states and even from abroad as they set up forging a new take on the Baroque and movement.
Many art historians of the 17th century viewed Annibale as someone who was promoting the earlier achievements of Italian artists in the Renaissance. In comparison, they might find Caravaggio's work as too 'real' and lacking in quite the same moral teachings. Raphael and Michelangelo would often be quoted as heroes of Italian art, and two whose styles should continue to be revisted by artists in the later centuries. Whilst understood to have incorporated elements of Florentines, Raphael and Andrea del Sarto's, work into his own ouevre, it was the use of colour by Venetian oil painter Titian that most impacted Annibale's approach to art. The names mentioned here are still considered amongst the most gifted artists of all time and remain very much at the forefront of European art history even today.
The rise in reputation of this young Bolognese painter would lead to large commissions, large both in their symbolic importance as well as the sheer size of the artwork requested. From this point it was necessary for the artist to make use of a series of workers from his studio, who would follow his lead from a collection of drawings that addressed each and every aspect of the final piece. To guide others was common during this period where fresco murals would require a large team of support in order to pull off the completed paintings over a reasonable timescale. Comparisons can be drawn with some of the great architectural buildings of European history that have sometimes taken centuries to complete. Taking the Palazzo Farnese as one example, the skills learnt by some of his staff would help them to become leading members of the next generation of Roman fresco artists.
Indeed, the completed ceiling was considered by many to be the finest fresco from this period for several centuries, with this process of producing countless study drawings becoming the accepted route for tackling ambitious projects such as this. Carracci's breaktaking work here has often been compared with Michelangelo's Sistine Ceiling as well as Raphael's Vatican Logge and Villa Farnesina frescoes. It would also clearly influence the fresco work of Lanfranco, Cortona, Andrea Pozzo and Gaulli who would all follow on decades and centuries later.