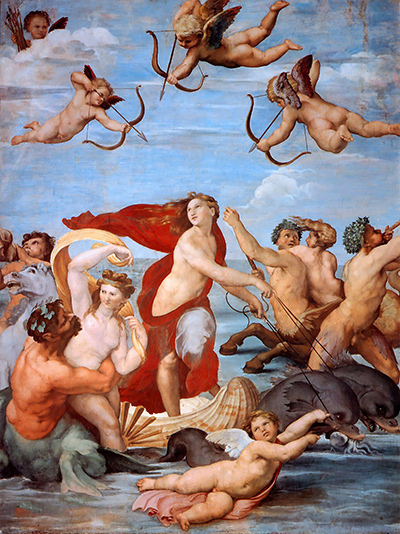 Buy Art Prints Now
from Amazon
* As an Amazon Associate, and partner with Google Adsense and Ezoic, I earn from qualifying purchases.
Raphael has done several paintings which focus on women. Triumph of Galatea is one that demonstrates this High Renaissance painter's immense skill.
This fresco was designed to be placed in Rome's Villa Farnesina. Agostino Chigi owned Villa Farnesina and was one of the richest people of that time.
Raphael's Triumph of Galatea is based on Greek mythology. Galatea was part of a love triangle of sorts. She had fallen in love with a shepherd by the name of Acis. This made Polyphemus jealous and he used a huge pillar to kill his rival. This fresco is part of a series but the entire series was never finished.
Raphael picked the snapshot of Galatea's apotheosis, that is, her change upon death into one who might abide among the everlasting divine beings. This would be as a reward for her patient endurance of pains and trials in life. The Triumph of Galatea was painted by Raphael as his response to how he felt about the "Stanze per la giostra".
Another artist, Angelo Poliziano, wrote the "Stanze per la giostra" and the poem is regarded as the masterpiece of its genre from that period of time. It is said that it is about a joust involving Giuliano de Medici. With two obvious cupids directing love darts specifically at her head, Galatea rides upon a shell borne by two dolphins. Raphael chose not to paint any of the headliners of the actual mythological story so none of those are seen in the work.
Galatea has a robust icthyocentaur to her left. Perhaps this creature, which has the middle of a man, body of a steed and tail of a fish, is meant to emphasise the mythological quality of the story or make it more interesting visually. Perhaps Raphael regarded it as a challenge to paint such a form. A centaur in the painting seems to have been overwhelmed by an affectionate, enthusiastic and obviously naked sprite.
In the midst of this, Galatea's face is moved in the direction of Heaven with a gentle, pure demeanor. Her facial expression and physical posture proposes she's oblivious to all the robust goings on about her. This is a case of Raphael's style. His choice to portray her as such furthermore demonstrates how entranced specialists of the Renaissance were with Ancient Greece.
Attendant sea spirits play classic and symbolic instruments to announce Galatea's change. They use their seashell horns, which are still used to make announcements in traditional ceremonies in many parts of the world.
Raphael additionally showed many parts of the human body in The Triumph of the Galatea. Numerous specialists of the Renaissance utilised the beauty of the human form as a topic in their craftsmanship. Galatea gently rides the waves upon a seashell chariot drawn by matched dolphins in a way which is reminiscent of Botticelli's Birth of Venus. This may connect her with the Goddess of Love.