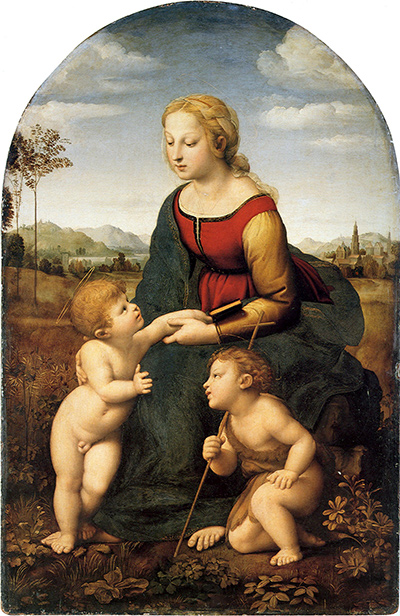 Buy Art Prints Now
from Amazon
* As an Amazon Associate, and partner with Google Adsense and Ezoic, I earn from qualifying purchases.
Housed in the famous Louvre museum located in Paris, France is Raphael's famous painting La Belle Jardinière.
La Belle Jardinière, literally translated as The Beautiful Gardener but most commonly known as The Madonna and Child with the Infant Saint John the Baptist, is one of Raphael's most famous paintings.
Raphael was highly influenced by the works of Leonardo Da Vinci and Michelangelo during his time in Florence and that inspiration is illustrated in his various Madonna paintings. It is La Belle Jardinière that is strongly considered his strongest piece of his Florentine works.
Typical of the Italian High Renaissance period, La Belle Jardinière is in pyramid composition. The three figures, the Madonna, Christ and John the Baptist, form an invisible triangle that draws the eye to the Madonna as the central figure of the piece.
Her arm is around Christ in a protective hold while her eyes meet his. He looks up at her, his body positioning, his feet standing on one of hers, suggesting a level of dependency and trust. John the Baptist takes on a devoted and supportive role as he kneels before them his gaze on Christ.
While Saint John carries a cross and the three figures have faint halos over their heads there are no overtly religious symbols in the work. The pastoral setting is both familiar and idyllic.
There is a feeling of tranquility in the quiet plant filled field, the rolling hills, and the soft blue sky yet also a sense of life beyond where buildings are seen in the distance. The landscape acts as a subtle backdrop for the three central figures creating a strong sense of harmony between nature and man.
La Belle Jardinière is a style of scene found frequently throughout art history, particularly in the the Renaissance and Baroque art movements. Peter Paul Rubens produced Marie de Medicis as Bellona and Assumption of the Virgin Mary. Botticelli's Madonna of the Magnificat, Madonna and Child and Portrait of Simonetta Vespucci are also worthy of note.
Raphael painted La Belle Jardinière during his time in Florence (1504 – 1508) for Sienese nobleman Fabrizio Sergardi. Chronologically it follows Madonna of the Goldfinch c.1505-1506 and mirrors his Madonna of the Meadow (Madonna del Prato) painting, another pyramidal composition of the Virgin Mary, Christ and John the Baptist.
The work was left unfinished by the artist when he moved to Rome and believed to be completed by Florentine painter Ridolfo del Ghirlandaio. Raphael's signature can be found on the edge of the Madonna's mantle with a date suggesting he worked on the piece in 1507 or 1508.