Together with illustrious Leonardo Da Vinci and prominent Michelangelo, Raphael Sanzio forms the trinity of great masters whose work and art, remains boundless in time and space, throughout all of history and in time to come.
Raphael was enormously productive and still, stands as one of the finest draftsmen in the history of Western Art.
Nonetheless, in spite of being famed for the utter beauty in his paintings, Raphael gave great importance to the conception of his drawings, whether in sheer preparatory efforts for future canvases or the works of art in themselves, no task was taken lightly.
This is how Raphael Sanzio himself was so rich in inventiveness and his entire life's work brimming in finesse, refined in poses and compositions, full of grace and elegance.
See also Da Vinci drawings plus Michelangelo and Durer.
Throughout all of history, Raphael's career falls naturally into three phases, the first being: His early years in Umbria, followed by a period of roughly four years dated to be amid, 1504 to 1508, with which he spent absorbing the artistic traditions of Florence.
And then came his last hectic but triumphant twelve years in Rome, working for the Popes and their close acquaintances.
Raphael was considered a kind, polite young man. Many consider him to have had the skills to match Da Vinci and Michelangelo, only with a more gentle personality. He would also gift other artists with some of his work. He once sent a prized drawing to Albrecht Durer, who was his contemporary at that time.
The artist would use red and black chalk in most of his drawings, with the former able to accurately capture the human body whilst darker regions added depth to his work. A few art institutions own a large proportion of his work, which makes arranging exhibitions of Raphael's drawings a little easier to organise. The Ashmolean Museum in Oxford, UK, the Royal Collection in London, the British Museum, the Uffizi in Florence and the Albertina in Vienna boast several hundred of his sketches between them. Perhaps the most famous Renaissance drawing of all was actually Praying Hands from German artist, Albrecht Durer.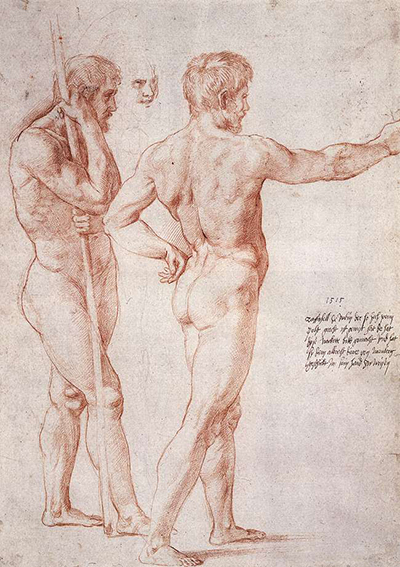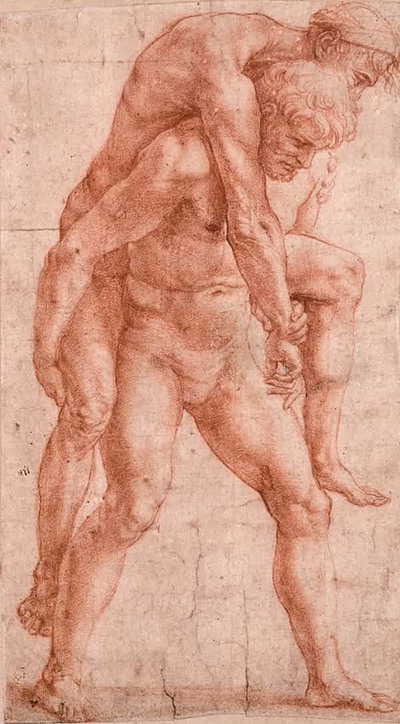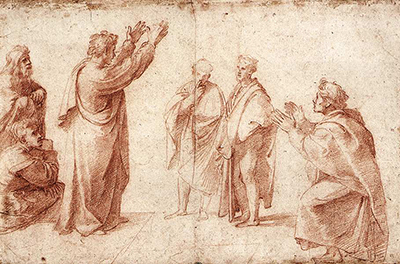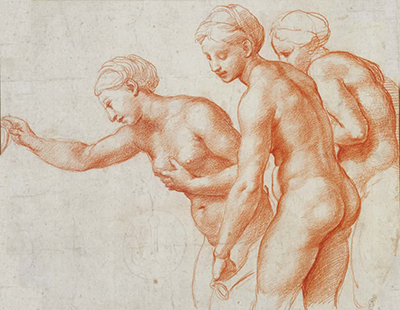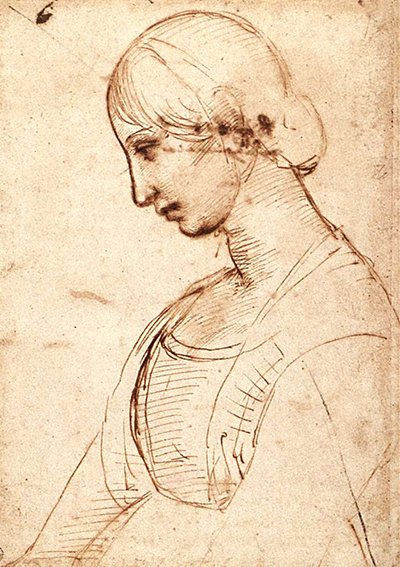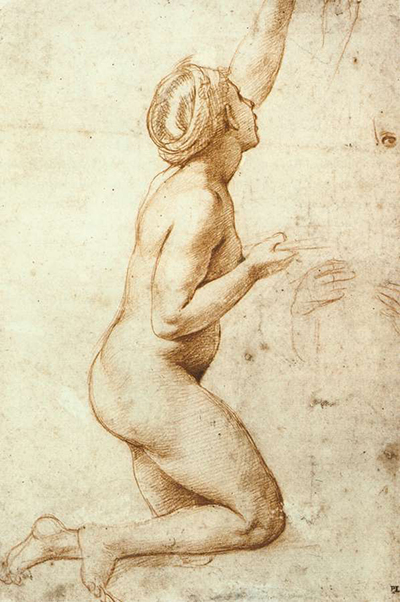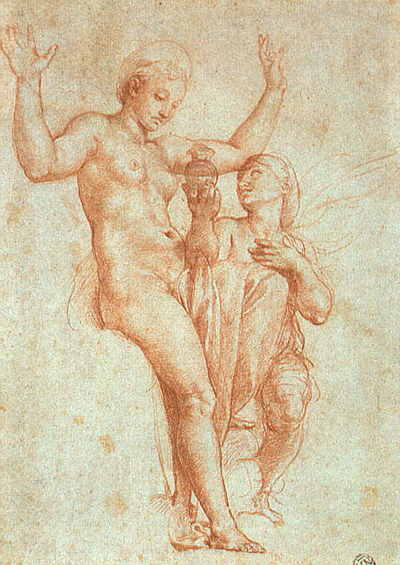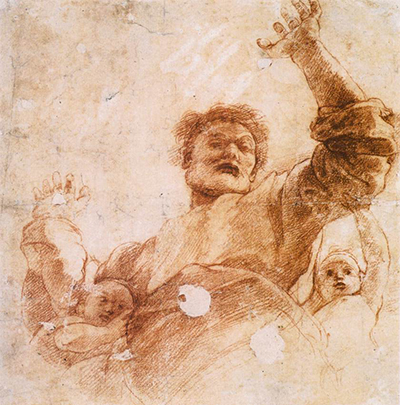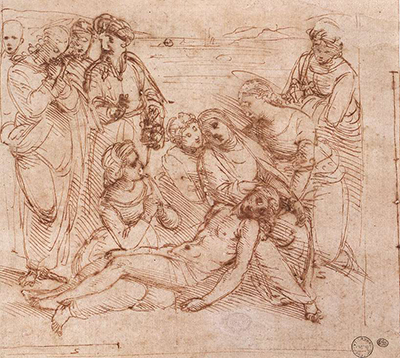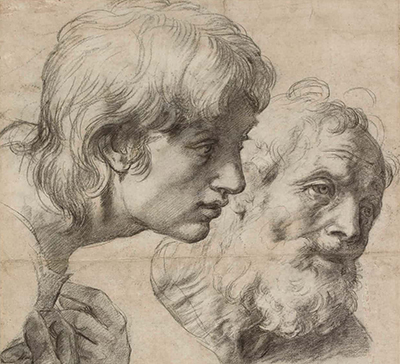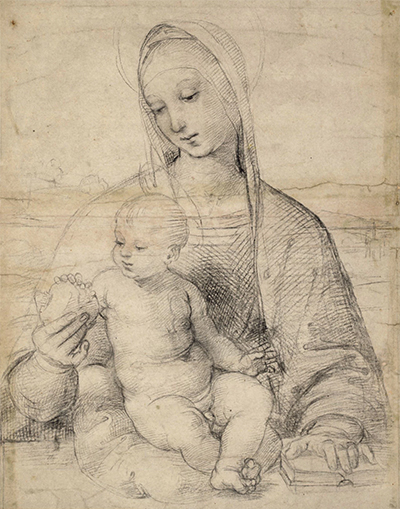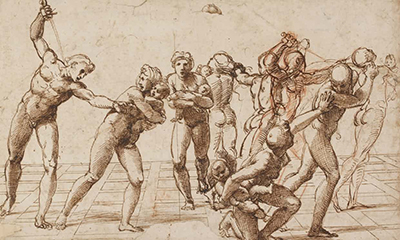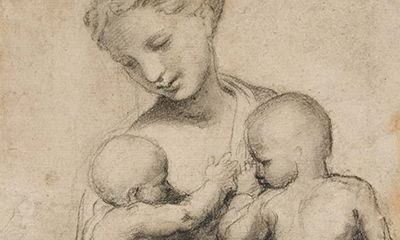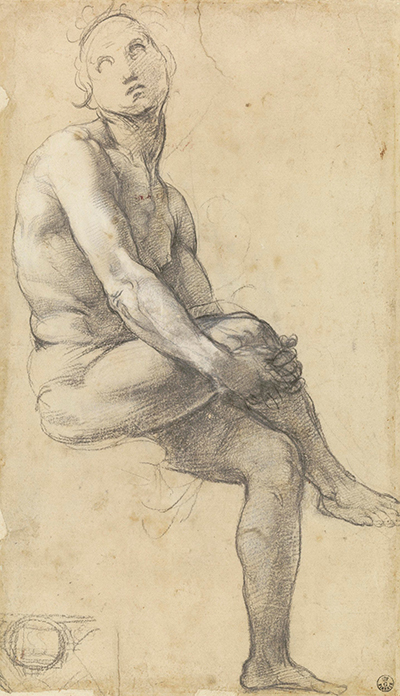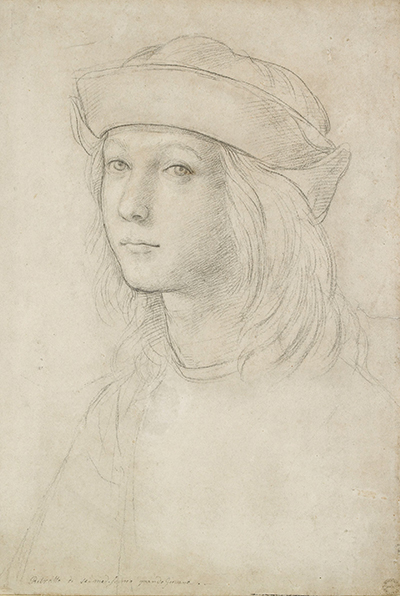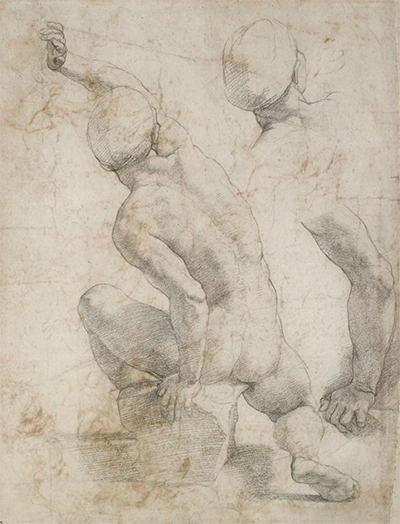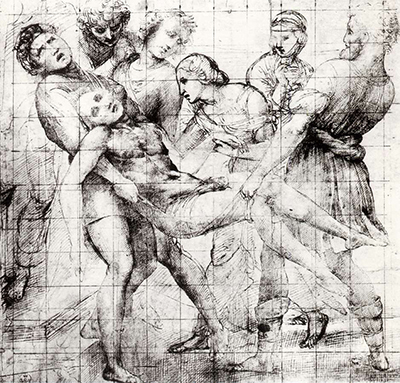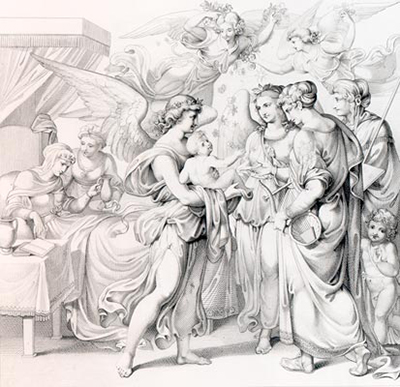 What Did Raphael Draw With?
Raphael Sanzio in his earlier works cherished the use of silverpoint and ink throughout his witting touch; these techniques are especially more evident in most of his early sketches, as well as, in various studies of human subjects.
Raphael is then observed to have made gradual use of black chalk when making more developed drawings as studies for his future paintings. This media in illustration offered Raphael more estate in the complete illustration of the effects of light and shadow, aspects of which were essential to the very being of Raphael's stature.
Throughout the years, as he progressed, Red Chalk, also called Sanguine, was incorporated into his artistry as a direct influence from Leonardo da Vinci during the period of which he spent absorbing the artistic traditions of Florence. Contrary to Black Chalk, Red Chalk allowed his to make much more complex and precise artistry, especially in his larger and more developed works to come.
Throughout the conception of his work, Raphael would produce a myriad of sketches before finally drawing studies. This done would lay the illustrations before him, and he would start working on the major lines of the work of art he had in mind, piecing parts from each preparatory drawing toward the production of the final copy.
This methodology meant that he was able to valiantly consider a variety of poses amongst other essential details before committing to the final to be produced.
Part of what distinguishes Raphael Sanzio's drawing above all is the very great attentiveness and sensitivity with which he drew. His human figures in conception are model of anatomical study, notwithstanding that he was one of the first artists to employ the use if women as model, back in the day and age where men were paramountly used instead.
Raphael's drawings form an interesting trace of his development as an artist, and the very impact he would exert on others. A good example is "The Judgement of Paris," an interesting masterpiece which served to inspire 19th-century French painter Edouard Manet for his Dejeuner Sur l'Herbe, around three and a half centuries later.
Famous Raphael Sanzio Paintings & Drawings
Study for the Massacre of the Innocents
A woman all too lifelike is portrayed running towards us, her mouth open in what can be termed as wild screams, and a baby all too young cradled in her arms. All around her gnawing violence, but seemingly giving her passage through the terrifying slaughter ongoing. What the well captured open pathway by Raffaelo through the heart of the horror really gives, is a visual connection, a heartbreaking scene with one unable to look away from her gaze and pain. To look into that petrified face is to feel humanity in the full pity of her plight. All too impossible not to be gripped by utter compassion.
St George fighting the dragon (around 1503-1505)
St. George fighting the dragon, is an astute artwork done by the illustrious Raffaello in utter preparation for the painting of the same that was set to be done in 1503. Nonetheless, two shrewd paintings of this particular scene were both conceived by the artist. The first one resembling precisely this study, and the second one differing in many ways but majorly: the position of St. George, as well as, the weapon he was wielding in fight against the ferocious dragon. Both all too magnificent to say the least!
Nude Study
Raffaello Sanzio da Urbino Nude Study display, reveals the utter range and skill in mastery of his draftsmanship. Raffaelo utilized Human Anatomy as a way of experimenting with expressions, as well as, mastering the art in the portrayal of the human form. And although many of his sketches done were simply put preliminary research for his much large-scale projects to come such as the Vatican Frescos, the Artist considered each one of them as utter works of art in their own right!
Lucretia (around 1515)
With pen and brown ink, Raffaello brought to life a valiant, noble, and grand canvas depicting the Roman Queen Lucretia in lieu of raising the virtue and nobility that this royal majesty deserved. This comes in with respect to how the Roman queen passed way; the way she committed suicide to avoid dishonor, as a model of virtue. In this particular setting, gathering from the pose of the woman; it indeed is possible to see the very influence that the Antique Roman statues held on the illustrious Raffaello.
The Study of God the Father (1515)
The study of God the Father by Raffaello is a prodigious painting represent God in his wholeness, in a position signifying of wrath and power. In this drawing, Raffaelo not only shows cases his great prowess in painting with Sanguine but also, he illustrates of how much of an influence Michelangelo work of art was to him.
The Study of Heads and Hands of Apostles
This painting is believed to be one of Raffaello's many studies done in preparations for one of his famous paintings, "The Transfiguration." And although the drawing is supposed by some to be an acute representation of St. John and St. Peter, because of their age, an observation that can't be deemed less certain if one takes a closer look at the actual painting.
The Drawing of a Young Man carrying an old man on his back (1514)
This outstanding masterpiece done by the illustrious Raffaello using Sanguine demonstrates the prowess and articulacy that is the mastery of this Renaissance champion. Raffaello formidably demonstrates the contrast between two outstanding characters each elevated with distinct features lacking from the other. This is observed not only by the way the muscle density is illustrated in each character, but also by the way Raffaello uses distinct shadowing in the separation of the two figures making each standout, and the canvas calling out to the viewer.
The Study of the School of Athens
This artwork by Raffaelo, also done using Sanguine is a wise effort in creating more precise lines and better-done shadowing. And although this study is one of the most-complete studies he ever did before the painting, many difference can still be spotted with respect to the masterpiece of 1519. Raphael's Grand Masterpiece. The School of Athens is considered the utter perfect embodiment of the classical spirit in lieu of High Renaissance and is one of the most famed masterpieces by the illustrious Raffaello Sanzio da Urbino. The painting epitomizes Philosophy, amongst other qualities, and is renowned worldwide for its vitality.