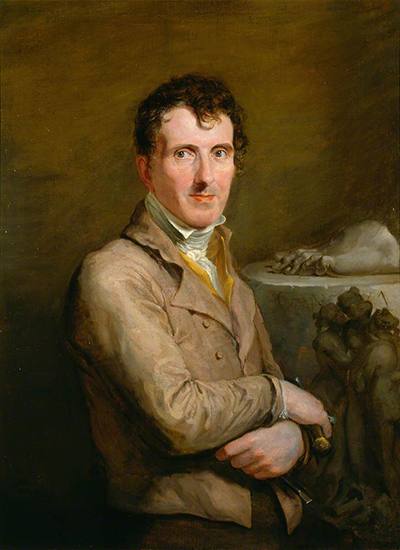 Buy Art Prints Now
from Amazon
* As an Amazon Associate, and partner with Google Adsense and Ezoic, I earn from qualifying purchases.
Antonio Canova was a Neoclassical sculptor from Italy who was well-known for his marble sculptures. He's often considered as the greatest Neoclassical artist to ever lived. Learn more about his life and career in this extensive biography.
Canova was born in 1757 in Possagno, a city in the Republic of Venetia. His mother was Maria Angela Zardo Fantolini and his father was a stonecutter called Pietro Canova. His father died in 1761, and his mother remarried in a year later. As such, his grandfather Pasino Canova, a stonemason and owner of a quarry, took care of him. Pasino specialised in altars with marble statues and low reliefs, which followed the late Baroque style. Pasino led Antonio Canova into becoming a sculptor. Before he turned ten, Antonio started carving marble and making models in clay. When he was 9 years old, he produced two shrines of Carrara marble. After these works, Antonio worked under Pasino.
Venice
In 1770, Antonio was an assistant for 2 years to Torretto (Giuseppe Bernardi). He was later under the guardianship of the Italian sculptor Giovanni Ferrari until he joined a public tertiary academy of art located in Venice. While studying at the academy, Antonio was awarded several prizes. During that period, some local monks gave him his first workshop situated within a monastery.
Giovanni Falier, who was a senator at that time, commissioned Antonio to make statues of Eurydice and Orpheus for the Villa Falier, which was his garden located at Asolo in the Venetia region of Northern Italy. He started making the statues in 1775 and completed them by 1777, with the pieces exemplifying the late Rococo style. After completion, the two works were exhibited for Ascension Day in Piazza San Marco. The works were widely praised and won him his first eminence among the Venetian elite. The abate Filippo Farsetti also commissioned early works by Antonio.
Rome
On 28 December 1780, Antonio arrived in Rome. He spent time in Rome studying and sketching Michelangelo's works. In 1781, the Venetian ambassador to the capital city of Italy, Girolamo Zulian, hired Antonio to produce Theseus and the Minotaur, which is currently in the V&A's collection. The statue portrays the victorious Theseus seating on a dead Minotaur's body. Between 1783 and 1785, Antonio arranged, designed and composed a funerary monument devoted to Pope Clement XIV for the Santi Dodici Apostoli church. He completed the work in 1787, and it secured his reputation as the greatest living artist.
Antonio's earliest notable breakthrough was his 1790 self-portrait sculpture. He completed another cenotaph in 1792. It commemorated Clement XIII for Saint Peter's Basilica. The sculptor harmonised the design of this work with the earlier Baroque funerary monuments that were in the basilica. In 1790, Antonio increased his painting activity. The following decade, Antonio began several significant works, including The Penitent Magdalene, Hebe, Cupid and Psyche and Hercules and Lichas. He went to Vienna in 1797 and returned to Possagno in 1798 where he stayed for one year.
England and France
By 1800, Antonio was the most renowned artist in Europe. To further promote his reputation, he published engravings of his works, then had marble versions of several plaster casts produced in his workshop. Antonio became successful and had to acquire patrons from across Europe. Napoleon and his family were some of his patrons. He produced lots of work for Napoleon. These include several depictions that he completed between 1803 and 1809, with the most notable ones being those of Napoleon as Venus Victrix (depiction of Pauline Bonaparte) and the colossal heroic nude marble statue called Napoleon as Mars the Peacemaker, which was a guise of Mars completed in 1806.
In 1802, Antonio was appointed as the Inspector-General of Fine Art and Antiquities of the Papal State. He was responsible for pioneering the restoration of one of the most important Roman roads, the Appian Way. He restored Servilius Quartus tomb. He became one of the associated members of KNAW in Amsterdam in 1808. He started his The Three Graces in 1814. The following year, Antonio was named the pope's Minister Plenipotentiary, and his role was to recover several works of art that Napoleon took to Paris. In 1815, he also visited London, where he met Benjamin Haydon. The British Museum acquired the Elgin marbles after his advice, and plaster copies were sent to Florence city, according to Antonio's request.
Returning to Italy
Antonio returned to Rome in 1816 with several of the artworks that were taken by Napoleon. He was given a number of marks of distinction. In 1819, the sculptor began and finished his commissioned work called Venus Italica, which was to replace the Medici Venus, a sculpture depicting Aphrodite. In 1814 - after his proposal to make a personified marble statue of Religion for Papal Basilica of Saint Peter was rejected - Antonio sought to construct Temple of Canova to house it.
He designed, funded and partly built this structure himself. The Tempio Canoviano was a testament to his piety. It first opened its doors to the public in 1830, but it was completed in 1836. Antonio returned to Rome when the foundation stone of the structure was completed. However, every succeeding autumn, Antonio continued to visit Possagno in order to direct those employed to do the manual labour and encourage them by giving them rewards. Antonio made George Washington's statue for North Carolina in 1820. He travelled to Naples in 1822 to oversee construction of wax moulds to be used in creating an equestrian statue of the Desired (Ferdinand VII).
Last Days
The adventure to Naples was disastrous to Antonio's health; however, he became healthy enough and returned to Rome. He then voyaged to Venice, where he died on 13 October 1822. A day before his death, Antonio instructed his brother Satori-Canova to use his estate to finish the Tempio in Possagno. Antonio's body was laid in the Temple of Canova. His right hand was put in a vase and preserved at the tertiary academy of art where he studied, while his heart was buried at the Frari in Venice.