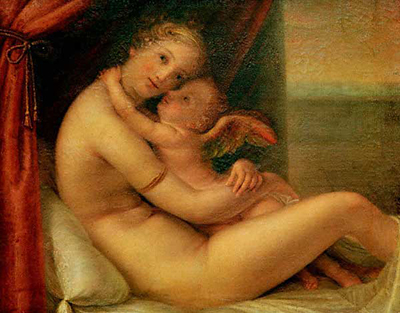 Buy Art Prints Now
from Amazon
* As an Amazon Associate, and partner with Google Adsense and Ezoic, I earn from qualifying purchases.
This lesser known painting from the career of Antonio Canova was completed in circa 1798/1799 using oil on canvas. It is just under a metre in height and width and was known originally by its Italian title of Venus mit Amor.
Venus wraps her arms around Cupid within this simple but touching portrait painting. Both are undressed as they relax on a bed within an indoor setting. Canova will always be best known as a sculptor but he took his painting entirely seriously, and also saw it as an extension of his drawings. We only have a few oil works left over from his career and so it is not possible to draw too many conclusions from such a small sample. He produced several self portraits which allow us to learn more about how he viewed himself, as well as a series of paintings of the Three Graces, a topic which he also covered in marble as well. He took advantage of his large studio to free up time for his artistic explorations and this enabled him to not only take his sculpture work as far as it could go, but also took invest some time in learning other artistic disciplines as well. He desired a scenario where he could complete the interiors of rooms with different types of art which could all work in unison together.
Venus would re-appear many times within Canova's work, with other notable inclusions being the likes of Venus and Mars, Venus and Adonis, Venus Italica and Venus Victrix. Canova appreciated Greek and Roman culture, regularly taking inspiration for his work from ancient tales and literature based on those periods. As a Neo-classical artist, this should not come as a surprise, but he was rare in being able to handle these topics in such a variety of mediums, though it would be his sculpture which really impressed his patrons and led to the major commissions. One might therefore consider his paintings to be more of a sideline, an opportunity to express his creative mind in a different manner and to perhaps take a much needed break from the main medium in which he was involved. His drawings were different again as they served as a basis to his larger projects, where he would produce studies before moving into small models made from terracotta or clay.
Canova was a key member of the Neoclassical art movement and found favour in both Italy and also France. He was perhaps the finest sculptor to be found within this movement, certainly within Italy, and many of the best painters would actually be found across in France. These would include the likes of Jacques Louis David, for example, who gifted us some classic artworks such as The Death of Marat, The Oath of Horatii and The Intervention of the Sabine Women. He took on similar themes to Canova but delivered them entirely in oils, where as the Italian specialised more in sculpture, particularly marble. This movement is respected technically, but has at times fallen out of favour, just as most styles rise and fall in popularity over the ages. Within that, there can also be changes in which particular artists are focused on, though both of these names are always to be remembered as a key part of this group.