The artist commonly tackled famous female characters from a variety of sources in her work, including Roman and Greek mythology, as well as more recent Christian themes. She would often attack these subjects from an alternative angle, as compared to her male counterparts. This brought an interesting uniqueness to her oeuvre, even though some initially passed her off as a close follower of Caravaggio.
In truth, she was so much more than that. Her life story also offers an impressive detail of her battles against the male-dominated Italy society of that era. All these centuries later we are continuing to discover more works from her career, normally from paintings that we were already aware of, but simply had wrongly attributed them elsewhere.
Description
Bathsheba, as the story goes, is spotted whilst taking a bath with her maids and wooed into infidelity. Artemisia chooses to depict her in a different manner to how other artists have tackled this subject, focusing on her calm reflection rather than some of the sordid details of what is about to occur.
She is exposed around her top half, as she plays with her long, red hair. A thick item of clothing is wrapped around her lower half, at least sparing some of her modesty. Her legs and feet are being dried by a maid, whilst Bathsheba herself holds a silver comb. There is additionally a silver basin in the bottom left corner, with some architectural features in the background.
In an alternative version we find the balcony contains another key element of this story, but in this work it is hard to discern much detail from the background, because of how dark parts of it have become, at least in the images of it that remain today. It is hard to know whether the artwork has darkened over time, or simply is in need of better photographs of it.
Provenance
This painting has mainly existed within Germany for the past few centuries, and can be traced back to the 19th century. It recently came up for sale in London and passed into another private collection. It achieved a sale price of around £600,000, and this reflects the increased market interest in this artist's work, although she remains less valuable than the works of her father - this may not be the case in the future, however.
Size and Medium
Artemisia Gentileschi's Bathsheba at her Bath from 1637-1638 measures 204.5 cm in height by 155.5 cm in width. It is believed to reside today within a private collection in Germany and was purchased at auction in 2014 at Sotheby's London.
The piece was, naturally, completed using oils on canvas, as was the artist's preferred method throughout her career and entirely in line with the wider Baroque movement. Interest in this artist's career has grown considerably in recent years, leading to many items coming up for sale at auction in order to take advantage of the increased valuations that applies to paintings attributed to Artemisia Gentileschi.
Large Image of Bathsheba at her Bath
We have included a larger image of the original work below, though the contrast on this photograph is not ideal. Some of Gentileschi's lesser known artworks have yet to be documented as thoroughly as others in her oeuvre, but this is likely to improve in later years as her reputation continues to enjoy something of a Renaissance within art history circles, as well as the wider general public.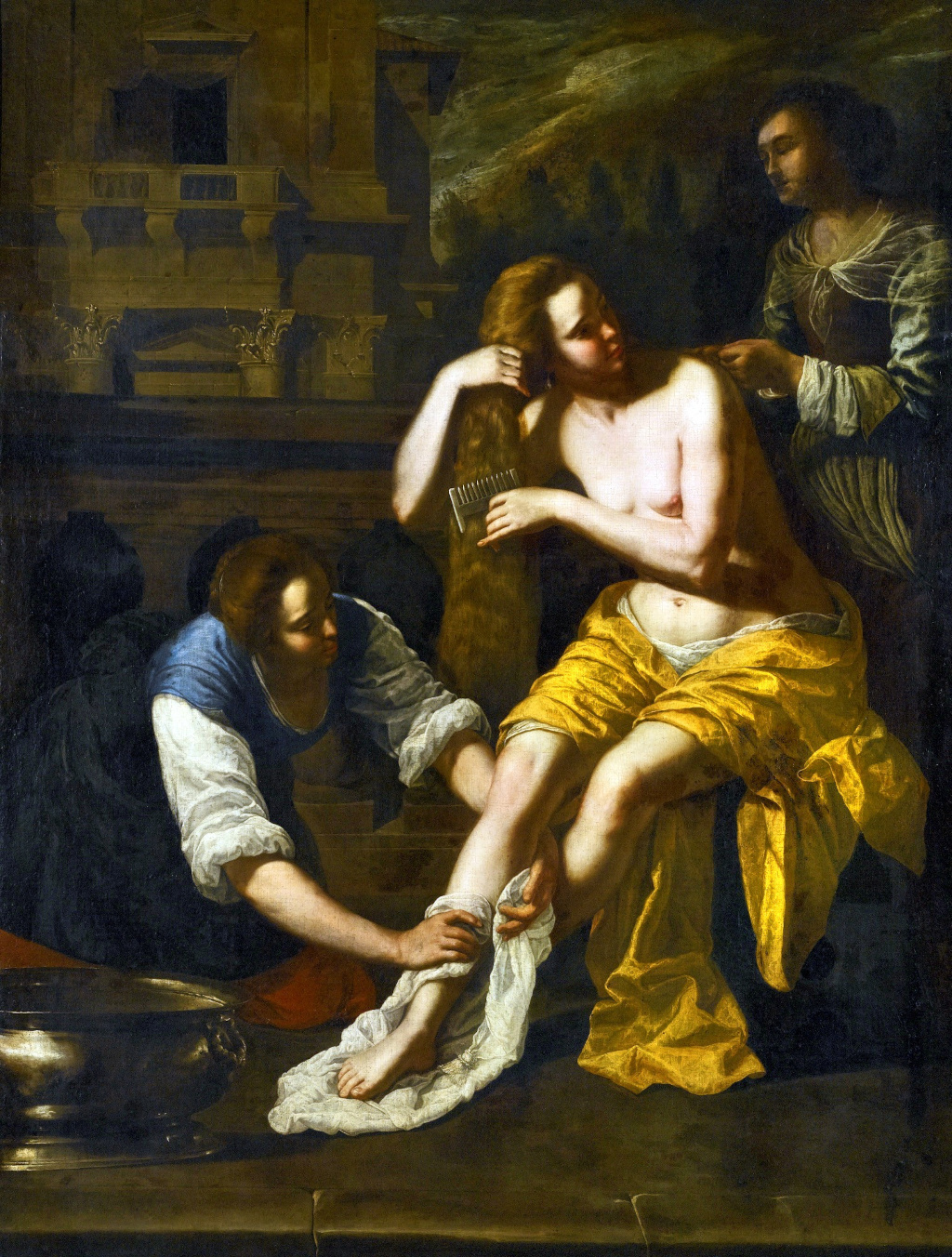 Bathsheba at her Bath