Introduction
Artemisia Gentileschi completed a number of commissions for Italian cathedrals, and in most cases these would be amongst her largest works. It was necessary to work on a large scale when hanging items on large walls, or potentially being studied from a long distance away. This particular piece is over three metres in height.
This piece, The Martyrdom of St Januarius in the Amphitheatre at Pozzuoli, is one of the few items from her career to reside today in its intended location. It was specifically the choir of Pozzuoli Cathedral who commissioned the piece originally, and they requested Saints Proculus and Nicea and Adoration of the Magi at around the same time.
Who was Januarius?
Januarius remains highly regarded within the city of Naples, even today. He served as their patron saint and was eventually martyred in 305 AD. He was arrested for protecting Christians and was sentenced to death, but eventually managed to escape. The saint is pictured here with a considerable following who come to see and support him as he makes his way through this amphitheatre.
Description
The saint is surrounded by worshippers as he makes his way around the amphitheatre. Many look on through the archways of this historic structure, whilst a cloudy sky shows through in the background. The artist pays great attention to the clothing of this saint, whilst the worshippers are given plain clothing in muted tones, and this approach helps to build a prominence within the composition.
As with a number of her other paintings, there may have been contributions from other artists within this painting. Artemisia would sometimes call for help, or have it forced upon her, for genres such as architectural painting and within this work it is likely that the elements of the amphitheatre itself was completed by another artist.
The artist did not sign all of her paintings, but when she did she would often do so in a creative manner. In this example, Artemisia signs her name on the tip of the lion's tail, who is positioned in the bottom right corner of the painting.
This artwork was commissioned by the choir, and therefore would have been hung behind them within the cathedral. The entire building was undergoing considerable internal changes during this period, and Gentileschi's commissions were a part of that. It is believed that Artemisia knew several individuals that were close to the bishop of this cathedral, and they were able to encourage him to use her for some of their upcoming commissions.
Size and Medium
The Martyrdom of St Januarius in the Amphitheatre at Pozzuoli measures 308cm in height, by 200cm in width, making it a considerable undertaking. It was produced using oil on canvas, in line with the rest of the artist's career.
Date
The Martyrdom of St Januarius in the Amphitheatre at Pozzuoli is dated to around 1635-1637, which was a period in her career in which she was living in Naples. Indeed, that city was prominent throughout this decade, although she also spent some time living in London, UK as well.
Large Image of Saint Januarius in the Amphitheatre at Pozzuoli
This large and delightful artwork can be found below in greater detail. This format should reveal more of the impressive detail added to the various robes within this piece, as well as some of the touches of architecture found in the background.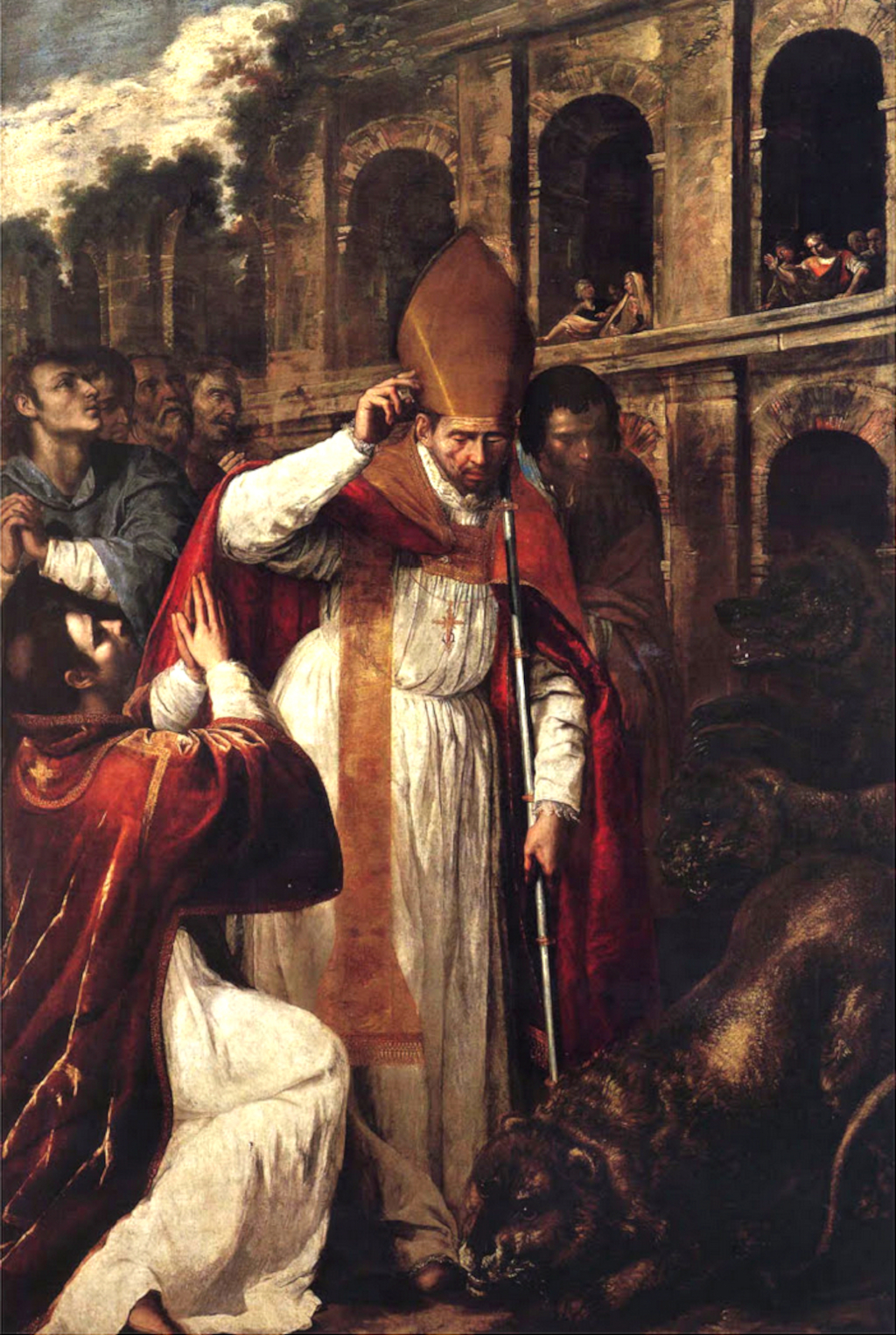 Saint Januarius in the Amphitheatre at Pozzuoli