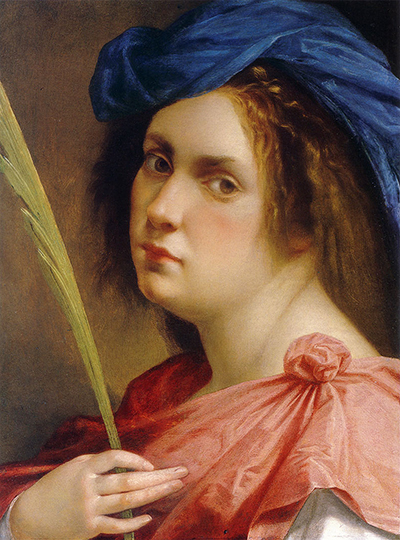 Buy Art Prints Now
from Amazon
* As an Amazon Associate, and partner with Google Adsense and Ezoic, I earn from qualifying purchases.
Artemisia Gentileschi made this painting in the year 1615 using wood and oil to create it. The style he used was Baroque oil painting.
The Baroque art is a technique that magnifies the drama in the literature because of the use of both and light colour and the incorporation of shadows in the painting. Artemisia Gentileschi was a female painter who was not appreciated or recognized well for her contribution to the world of art.
The painting portrays St Catherine of Alexandria, who was a Christian martyr. Her impact in Christianity was so significant that she was able to battle several of Rome's best philosophers who challenged her knowledge and belief in Christianity and won that debate. The image of St Catherine of Alexandria looks directly at the person viewing her. This shows that she wears her martyrdom with pride and confidence, as well. St Catherine was very popular in the rise of Christianity all over Rome and the more substantial part of Italy. The winning of that great debate also made extremely crucial at the start of a great movement. Artemisia used bold colours to bring out the confidence that comes from her striking eyes. The wave from this portrait resulted in the making of such self-portraits for centuries.
Artemisia Gentileschi used her gender to demonstrate her knowledge of art. At the time of the painting, female painters were not regarded in society, and this was a massive breakthrough for female artists from that time to today. The portrait of St Catherine shows a female in power and who is not but down by the fact that a woman was not supposed to hold a position in society. The painter, Artemisia, and the muse, St Catherine, were vital at the start of a new era of female empowerment.
Artemisia made sure to cover up St Catherine making the image decent to all viewers. The work of St. Catherine was what made her famous and not her body. Artemisia had St Catherine hold a feather pen showing her work in writing laws in Rome. Her prowess in Baroque oil painting made the portrait uniquely come to life. She used shadows to bring out the features of St Catherine vividly. Later on, Artemisia was acknowledged by Prince Charles I for her contributions to the world of art. The painting is currently on display in Italy and has been recreated by many other artists all over the world because she paved the way for other female artists.