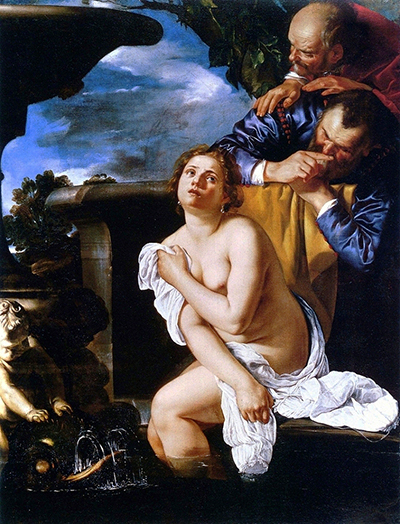 Buy Art Prints Now
from Amazon
* As an Amazon Associate, and partner with Google Adsense and Ezoic, I earn from qualifying purchases.
Artemisia Gentileschi was a legendary artist figure during her time and among the first women artists to take on a career presumed to be for men.
Baroque artist painter Gentileschi's artworks are, in most cases, overshadowed by the fact that she was at the age of 17 raped her father's colleague. Similar to her father, Orazio, who trained her on how to paint using the Caravaggio painting style, this style illuminated her subjects using the strong stage lights to enhance the effects of emotional drama.
Artemisia Gentileschi was born in Rome in the year 1593 and died in Naples in the year 1653. Gentileschi has been attributed to at least three artworks that she did on the subject Susanna and the Elders, which she painted between the years 1610 and the year 1649. Some of the modern-day painters say that she was inspired to paint the scene due to the fact it coincides with circumstances in her life. Some of these were attributed to the kind of relationship she had with her father and the fact that painter Agostino Tassi raped her in the year 1611.
Artemisia Gentileschi's figures were often heroic female inspired from historical, religious as well as the mythology subjects such as Susanna, Mary Magdalene, and Lucretia among others, which she often depicted being nude and erotic. She painted this particular art piece using Oil on canvas. Susanna and the Elders is one of the most famous paintings done by Artemisia Gentileschi, an Italian painter. The painting was done by the artist in the year 1622 and was kept in the Burghley House located close to Stamford in England.
The painting is among the various artworks done by Artemisia Gentileschi, portraying the biblical story of Susanna retrieved from the Book of Daniel. Other similar artworks depicting Susanna and the Elders are at Pommersfelden done by the artist in the year 1610. The biblical scene of Susanna's sad encounter with elders was a famous painting theme among most of the Italian-based painters during the 17th century. This story depicting how two elderly men confront as well as in a false way criticize the beautiful, young lady from Babylon who was given a name after the Egyptian term, which meant "lotus flower," symbolizing purity - was depicted by most painters, including Artemisia Gentileschi.
The painting depicts a nude Susanna trying to get away from the grip of her elderly rapists. Artemisia Gentileschi's portrayal of the unfortunate historical and biblical encounters pound with passion and resonate with trauma.