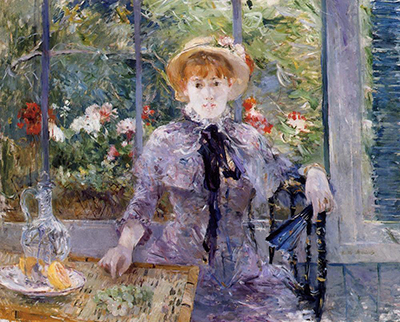 Buy Art Prints Now
from Amazon
* As an Amazon Associate, and partner with Google Adsense and Ezoic, I earn from qualifying purchases.
After Luncheon or Après le déjeuner is a painting of a red-haired lady that is sitting in a conservatory. A French impressionist called Berther Morisot created it. This painting is said to have been created in Bougival, where the painter and her husband had rented a home.
His husband, Eugene Manet, was a brother to another famous artist called Edouard Manet. This image is believed to have been painted in 1881. In the image, Morisot painted an image of a woman wearing a fitting blue dress. She has a matching fan as well as a straw hat that has flowers on one side. The conservatory has a fresh-looking garden behind her where there are flower bushes, which are in bloom. In addition, there is a table in front of her where a few refreshments are placed. There is also a plate with more refreshments and a glass jug beside it.
This image was first showcased to the whole world at the Seventh Exposition des Artistes Independants that happened in Paris in March of 1882 in an event held by Durand-Ruel. The image garnered a lot of interest from visitors at the gallery. The painting has been around over a century until it was sold at Christie's London Impressionist/ Modern Everything Sale in February of 2013. The image garnered $10,980,813, the highest auction price for any work by a female painter.
The painting was done with oil on canvas. She used an impressionist style, which was popular at the time. Unlike other popular methods of painting of the time such as classicism, the style of painted involved applying paints in small strokes throughout the entire image. These strokes were visible in the entire creative work. Morisot also captured the image with lots of colour and the freshness of the landscape around it. In essence, she tried to replicate the image, as one would see it on having the first glimpse of the object in question. A combination of these attributes makes her image vibrant and very bright.
Again, in contrast with many impressionism images at the time, her image captured lots of details from the table to the backyard and the hat. It is also easy to see that the lady in the painting is happy and relaxed in what she is doing something that plays a part in creating the overall mood of the image. The effect of the sunlight on the flowers is also evident. This image was one of the many images Morisot created about the French countryside. Most of her other images included women going about their daily chores using the same style. Other artists that are best known for this style include Claude Monet, Auguste Renoir and Edgar Degas.