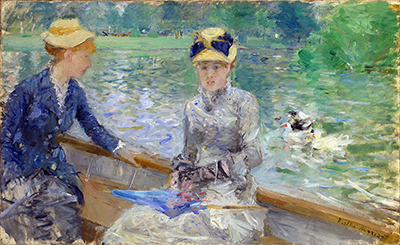 Buy Art Prints Now
from Amazon
* As an Amazon Associate, and partner with Google Adsense and Ezoic, I earn from qualifying purchases.
Summer's Day is another addition to the Impressionist collection of boating scenes. This is perhaps Morisot's best in this genre and features the loose brushstrokes that were starting to become the hallmark of her own style.
Morisot uses tones of blue, green and yellow to complete the vast majority of this piece. The brushstrokes are thick and relatively simple. The opponents to the Impressionist movement would often claim these paintings to be unfinished, but this just showed a relative ignorance as to the style and meaning behind this ground-breaking art movement. The scene captures two women enjoyed a relaxing boat trip, dressed elegantly. Behind them is a collection of swans who swim past, with both sides of the bank coming into the background from the left and right. The central figure has a pretty bonnet that is decorated with flowers and holds an umbrella which appears to have been unnecessary on this particular day. The artist signed the painting across the rim of the boat.
This artwork from 1879 was produced in the Bois de Boulogne, a large public park in Paris. It is believed that it was originally titled The Lake in the Bois de Boulogne and actually entered into the 5th impressionist art exhibition, alongside another artwork that she completed in the park. The two women have never been identified and it is most likely that they were hired as models especially for both paintings. Boating scenes were common in the impressionist era, perhaps the unique element to this work is Morisot's lively brushwork, with zig-zags of colour that suggest movement. The movement produced a large amount of work focusing on the leisure activities of the middle classes.
Summer's Day is owned by The National Gallery, who also own another piece by Morisot titled Girl on a Divan. The highly significant art institution contains a fine selection of work from a number of different European art movements. Related artworks with a similar theme to this that can be found there include Bathers at La Grenouillère by Claude Monet plus Beach Scene by Edgar Degas. They possess a huge number of notable impressionist paintings, perhaps one of the finest collections of them outside of Paris, the French capital. For example, you will also find original paintings from the likes of Caillebotte, Renoir and Pissarro too.