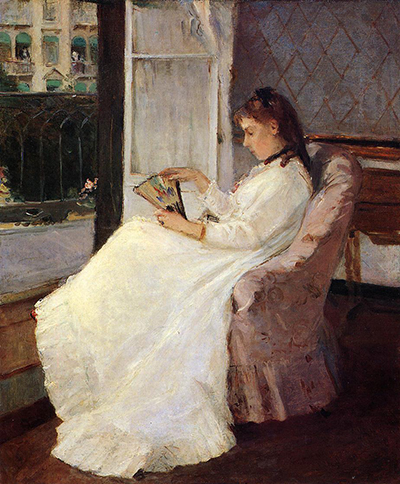 Buy Art Prints Now
from Amazon
* As an Amazon Associate, and partner with Google Adsense and Ezoic, I earn from qualifying purchases.
The Artist's Sister at a Window is an oil canvas painting created in 1869 by Berthe Morisot. It features the signature characteristics of the artist.
Berthe's art showcases women lost in thought, and when she features her sister Edma in this painting, who was by the time expectant, it gets easier to imagine her focus on the drawing. In the art, Edma is seen seated at a chair near an open window and shown to be thinking deeply about something. She is seen to stare at a Japanese fan, but is her focus there? Well, with the muted colours used by Berthe, it is a clear indication of a reflective mood.
As Berthe brings it out, Edma had a lot on her mind. This was after she had married and left Paris. This was the first time the two sisters were not together, and Berthe went to visit her after she had settled. Edma was also an artist. So, the interpretation of her meditative mode would be that she was uncomfortable with the societal pressure to marry, which eventually ended her career in art. This was because she had lost touch with the simulation of other like artists, was going to be more involved with domestic duties and eventually get a baby who would end up occupying her artistic time.
The Mood
The fan in this image does not only symbolise the culture but the influence of it. The Artist's Sister at a Window focuses on one figure who is the sister by showing the viewer a plain background. Impressionists during this time depicted modernity, including café concerts and other forms of entertainment. Berthe, in her works, did not find time for her colleagues to discuss art. For the most part, in her paintings, she depicted women in empty spaces and did not focus on the modern world.
Through the French doors in this painting, you can see male figures positioned on a balcony under green awnings. They are seen in a modern apartment across the street as they watch the surroundings as Edma remains contained in her room. Notice that this painting shows an indoor scene with light trickling in through the French doors. With the way Berthe allows light to reflect inside, it is clear that she has a deep love for natural light. It is seen to illuminate on the edges of the armchair through the white door. The artistic palette in The Artist's Sister at a Window is modernity, meditation, light and the Japanese culture.