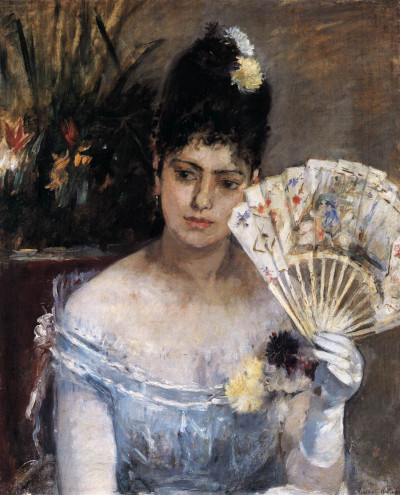 Buy Art Prints Now
from Amazon
* As an Amazon Associate, and partner with Google Adsense and Ezoic, I earn from qualifying purchases.
At the Ball (Au Bal) is a memorable artwork by French Impressionist, Berthe Morisot. She completed this piece in 1875, by which time her career had built up a strong momentum.
Scenes from the theatre would feature regularly within the Impressionist movement, also taken on by the likes of Degas, Renoir and Monet. In this example from Morisot we see a fairly straight forward composition in which the young woman looks directly at us. She is face-on, and holds a delightful fan within her gloved left hand. She is glamorously dressed for the occasion, and perhaps is posing prior to heading out for the evening. We find a table and flowers in the background which appear to be more something you might find in a family home, and without any other features of a theatre included, it seems likely that she has just finished preparing herself for the evening. The lady wears a stunning blue dress which hangs relatively low for the period, and has adornments within her hair. Whilst being a relatively simple composition, the layout is carefully planned, with everything carefully and consistently laid out.
The position of the lady is perfectly centred, and her pose directly straight on. Other artists capturing scenes of or about the theatre tended to be more natural in the scenes that they produced, where as At the Ball (Au Bal) feels more like a contrived, traditional portrait. That is no criticism though, and this genre was very comfortable for Morisot who entirely mastered indoor portraiture across her career, particularly of female subjects. She was particularly adept at capturing and feeling emotion from her subjects, which may have been partly because of her gender, where women would feel more comfortable in her presence, particularly during a time which was still fairly socially conservative.
This painting can today be found in the permanent collection of the Musée Marmottan Monet in Paris. The city itself hosts an extraordinary collection of art, spread throughout a large number of impressive galleries and museums. Few cities in the world can compete with its collection, and the sheer vastness of the paintings and sculptures found here means that some are loaned out to other parts of the country in order to allow more people to see them. Naturally, the Louvre takes centre stage, but smaller venues such as Musée Marmottan Monet are still certainly worth visiting for those visiting the city for the first time.