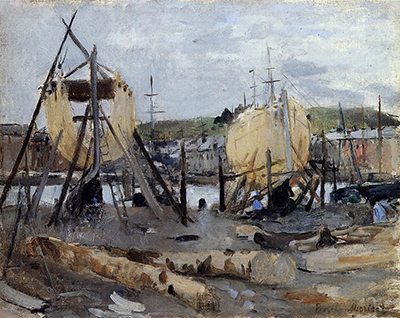 Buy Art Prints Now
from Amazon
* As an Amazon Associate, and partner with Google Adsense and Ezoic, I earn from qualifying purchases.
Boats under Construction is an 1874 painting from the career of Berthe Morisot. This piece represents something fairly different compared to her usual focus on the lives of women within indoor settings.
The composition in front of us here features several boats in differing conditions of completeness. The one to the left is little more than the bare bones of the bottom of the vessel, with still much left to do to make it ready for its next voyage. By contrast, to the right we find a more complete vessel which just requires its desk to be added. Ladders and wooden structures are placed around to signify that we are within a place of work, where boats are being constructed along different time frames. In the distance we see the rest of the harbour, including several glorious ships whose sails reach high into the sky. They are joined by terraced houses which presumably would have housed workers along the docks for generations past. A sense of perspective is delivered by the artist with how the boats in the foreground are listed into the air, above the levels of the houses in the distance.
Although boat construction was obviously not featured very often within this artist's career, she did regularly visit harbours and found plenty to inspire here. Isle of Wight is one example of that, and came during an enjoyable honeymoon to this popular British island which lies just off the English coast. She worked tirelessly across her career and would sometimes seek alternative content from her tried and tested formula of focusing on the lives of middle class women in France. Like any artist, she would want to challenge herself and portraiture became almost second nature to her after years of working with oils and drawing within this genre. She also painted portraits of her husband whilst visiting the Isle of Wight, as shown in Eugène Manet on the Isle of Wight.
The painting can today be found in the permanent collection of the Musée Marmottan Monet in Paris, France. Despite the incredible competition that exists between different galleries and museums within this cultural city, this venue still retains a strong reputation for its impressive collection. The building was set up to house a Monet collection, before work from other artists was later added. Monet's Impression, Sunrise remains the most famous artwork on display here, though you will also find notable items from other big names such as Édouard Manet, Alfred Sisley, Camille Pissarro, Paul Gauguin, Paul Signac, Pierre-Auguste Renoir, to name just a few. It tends to attract visitors who are specfically interested in the Impressionist movement, reflecting the main focus of its collection.