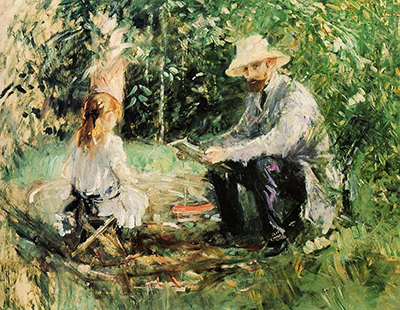 Buy Art Prints Now
from Amazon
* As an Amazon Associate, and partner with Google Adsense and Ezoic, I earn from qualifying purchases.
Berthe Morisot a talented artist married Eugene Manet in 1874 and the marriage never affected her painting. She went on doing her creative painting as good as she did before and continued signing her work in her first name.
The setting of this painting she did in 1883 is a garden of the estate they were living in that summer – Bougival estate. The artwork featured her husband Eugene and the daughter Julie and it also illustrates a more private life of the two. In the painting, Julie is dressed in a beautiful summer dress that is light blue in color. Eugene is seen dressed in an artist's smock and a hat on his head. Julie sits beside the pond sailing her red boat on the waters. The painting does not feature their house anywhere. It is entirely drawn to depict the father and daughter relationship.
Berthe's intention towards this artwork was to be purely private family work that she never exhibited anywhere during her painting life. The painting was never exposed to the public until the time she met her death in the year 1896. This artwork was one of Morisot's favorite pieces. Another great piece of Morisot's artwork was titled Eugene Manet on the Isle of Wright that she completed in 1875. During this time, Eugene and Berthe were spending their honeymoon time in the Cowes on the Isle of Wright. The artwork involves her husband Manet and the front little cottage of the place. Eugene is seen posing looking through the window. Morisot shows a lot of creativity from how she painted the window panes and curtains to bring out the transparency.
The potted plants on the window and the flowers in the garden add more color to the painting. She painted a grid-like framework with horizontal and vertical lines of the window sill, garden fence, window frame, and Eugene's boater. Morisot described this work as the most frustrating and depressing she ever did. This shows how Berthe was a perfectionist. She wrote to Edma describing the work as pretty looking but ugly to paint. Still, in 1875, she did an impressionist painting "in the dining room" which was an oil on canvas piece. It features a female figure standing in the dining room as the central figure. The woman is seen standing with a wall painted of pink, blue, purple, gray and brown brushstrokes behind her.
Who Inspired Berth Morisot in her Artworks?
Morisot was introduced to Edouard Manet (Brother to Eugene Manet) by Henri-Fantin. The two formed a solid friendship and influenced each other greatly in their painting work. She became inspired by Manet's drawings and used colors to the maximum in all her artworks.