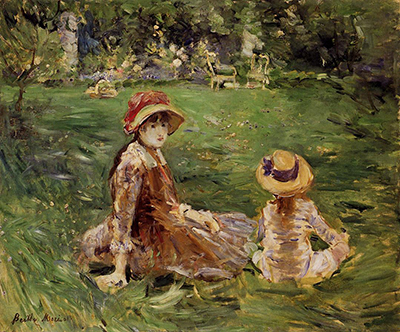 Buy Art Prints Now
from Amazon
* As an Amazon Associate, and partner with Google Adsense and Ezoic, I earn from qualifying purchases.
A domestic scene capturing the daily lives of women in French society? It has all the hallmarks of a classic artwork by Berthe Morisot and In the Garden at Maurecourt (1884) is precisely that.
The loose brushstrokes, particularly in the foreground, are from a style developed by the artist over time. It was also heavily influenced by several other members of the Impressionist movement. Her initial work was far more precise but she moved away from that towards a more expressive style later on. In this scene a lady looks towards the artist, whilst her child has turned away. There is likely to be something of interest at the foot of the garden that has captured her attention. Both are dressed elegantly, suggesting an affluent family who have the ability to enjoy leisure time once other tasks have been taken care of. Morisot liked to portray women as strong and happy, even though their lives were fairly restricted at that time.
It is most likely that this scene is of Julie, the artist's daughter plus one of her sister's daughters. Berthe and Edma were very close throughout their lives and Edma was indeed an artist herself for many years, before choosing to concentrate on bringing up her children. It is probable that she envied her strong-willed sister, at least to some small degree, because of Berthe's insistence on continuing with her greatest passion, even after she had children of her own.
Garden scenes were very common throughout the Impressionist movement, with Morisot being just one of a number of artists who created portraits of friends and family within this type of personal setting. The combination of the outdoors, but with the ease of being able to organise a scene without the public around appealed to them. One also had a greater control over the precise composition when working from private land. The figures would also be more comfortable within familiar surroundings, which is particularly important when adding young children into the scene. The garden at Maurecourt is fairly long, spreading right to the foot of the canvas, again suggesting that the property was a large and prestigious building owned by a successful family.
The Toledo Museum of Art, where ownership of In the Garden at Maurecourt lies, has an excellent collection of several thousands items across a variety of artistic disciplines, including painting and sculpture. Besides this significant impressionist painting, you can also find original works from the likes of Thomas Cole, Paul Cezanne, Hans Holbein and El Greco here, to name just a small selection of the huge overall collection.