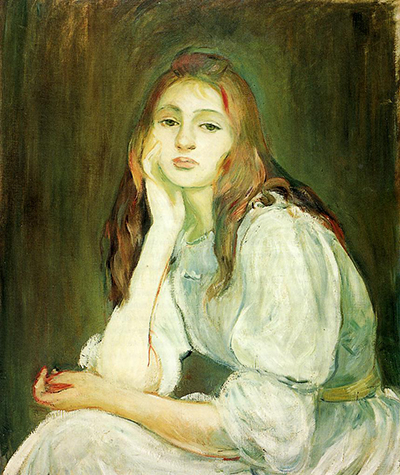 Buy Art Prints Now
from Amazon
* As an Amazon Associate, and partner with Google Adsense and Ezoic, I earn from qualifying purchases.
Berthe Marie Pauline Morisot was part of the Parisian Impressionist movement, with contemporaries such as Monet, Cezanne and Degas. Her work was highly respected from its inception, exhibiting at the celebrated Salon de Paris in 1864.
She was considered to be amongst the three great female painters of her day, alongside Mary Cassatt and Marie Bracquemond. Born to a wealthy family, Morisot did not have to face the obstacle of penury like many artists and as such was able to have the freedom to paint without the need for money or commercial success.
Morisot's works predominantly feature scenes from her day to day life. Drawing on her own personal experiences, the subjects of her paintings were often those closest to her, such as family and friends. Julie Daydreaming is one such example of this and the title subject is in fact Morisot's daughter. Whilst male impressionist painters focused often on landscapes and exteriors, the female impressionists such as Morisot focus much more on what life was like behind closed doors.
She would often paint her sister's children and when she was blessed with a daughter of her own, she felt it combined both sides of her life, her art and her family. Poet and husband of Morisot's niece, Paul Valery, described her as 'living her painting and painting her life'. Her paintings capture the subtle essence of femininity and the brilliant colours and feathery soft brushstrokes give her paintings a dreamlike quality. Julie Daydreaming is probably most similar to that of Degas, who is famous for his deeply sensuous paintings of young girls and ballet dancers.
Just as Monet is famous for painting lilies, flowers often appear in Morisot's works too and add an extra depth of romanticism and whimsy. They are however absent from Julie Daydreaming, with her daughter the artist's sole focus. Julie Daydreaming was painted at the very end of Morisot's life in 1894. The work looks to capture the passage of time as her daughter transforms from girl to woman as she is thought to be sixteen at the time of the painting.
Morisot paints Julie throughout her daughter's life, starting from birth, and she remains a muse for her mother throughout her life. Unfortunately, both became ill with pneumonia shortly after the work was completely and it was this that sadly caused Morisot's death. The painting is currently unavailable for viewing by the public and is part of an unnamed private collection.