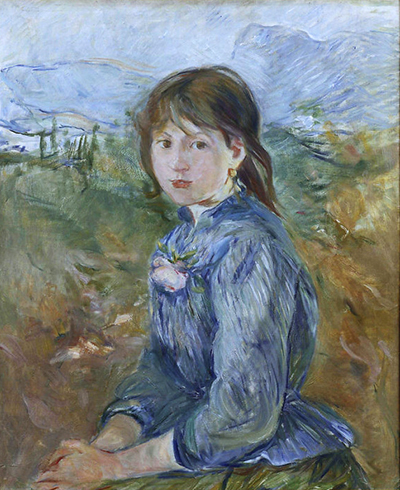 Buy Art Prints Now
from Amazon
* As an Amazon Associate, and partner with Google Adsense and Ezoic, I earn from qualifying purchases.
The Small Girl from Nice, known originally in French as La Petite Niçoise, was produced by French painter, Berthe Morisot, in 1889. It resides today within the permanent collection of the Musée des Beaux-Arts de Lyon, France.
The portrait features a young woman in a blue top, with green dress underneath. A landscape scene can be found across the background, though the Impressionist nature of this artwork makes it hard to identify specific elements. She looks directly at us, from a side profile with her head angled in our direction. The girl also wears a pink petal around her chest, whilst her hair is relatively simply done and hangs loosely. With this portrait having been completed outdoors, it may have been that the wind slightly unsettled her hair whilst Morisot put the painting together. Tones of brown and green are used just behind the subject which lead up to the blue mountains in the very far distance. There are also dabs of darker green paint to create the impression of several trees.
Museum of Fine Arts of Lyon has one of the finest collections of art in France, particularly outside of its capital, Paris. La Petite Niçoise was added relatively recently, appearing here since 2007. Interest in Morisot's career has risen in recent years, making this a valuable purchase. Female artists more generally have received more exposure than they enjoyed previously, and so established figures such as Morisot and her Impressionist colleague, Cassatt, have been some of those to benefit the most. Morisot's reputation is entirely international and she has always been regarded as an important contributor to the highly successful Impressionist group. They were more open minded than others at the time, and so happily welcomed several female painters into their stable. That said, the Salon also encouraged Morisot from relatively early in her career.
Alongside La Petite Niçoise (The Small Girl from Nice), the Museum of Fine Arts of Lyon also features a number of other high profile acquisitions. The highlights to be found within its huge display area include the likes of Saint Francis by Francisco de Zurbarán, Crucifixion by Simon Vouet, La Lecture by Henri Fantin-Latour and also Danae by Tintoretto. They have managed to cover a wide selection of work, covering the Renaissance all the way up to the early 20th century, such as a small selection of Cubist paintings. The venue therefore provides an impressive introduction to western art, with a strong focus, naturally, on French art in particular. Lyon also hosts several sister venues which share artworks with larger galleries and museums in the capital, Paris.