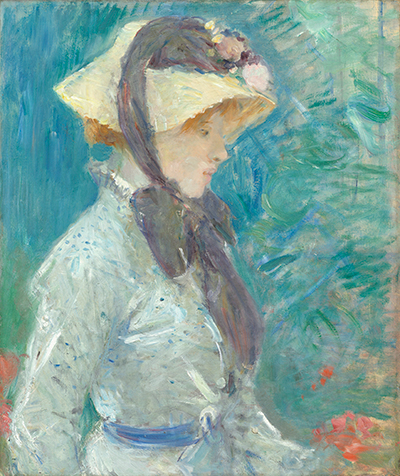 Buy Art Prints Now
from Amazon
* As an Amazon Associate, and partner with Google Adsense and Ezoic, I earn from qualifying purchases.
Impressionism was a unique form of painting which combined foresight, design, light and linear brush strokes. It was big in the 19th century, thanks to improvised artistic perfection and the emphasis on movement as a virtue in art.
Berthe Marie Pauline Morisot was a key player during this era. She was among the female French elite painters of her time. Her genre was landscape painting, domestic scenes and portraits.
The painting was done on canvas using oil. The original size was 55.5 centimetres high and 46.7 centimetres wide. It showed the figure of a woman looking down. On her head was the straw hat and a scarf holding it to her head. The woman is out in a garden picking flowers. The light brush stroke explains the calm and warm environment; a factor emphasized by her light clothing. Her mode of dressing and her fair complexion explains that she is enjoying her youth. In medieval times, a lady in a garden full of flowers was a representation of beauty, innocence and nobility. Berthe created this impression to show the beauty of life and power of innocence in a drawing.
She did this painting in 1884, right at the tipping point in her impressionist career. This was the time she has mastered oil painting, combining watercolours and pastel. She was good with sketches and would paint quite fast. Her outdoor paintings at this particular time were top-notch, and this painting is a testimony to it. Currently, this painting is owned and held at the National Gallery of Art in Washington DC in the United States.
She was born with a brush in her hand. The talent runs in her family, and owing to her background, she and her sisters went through private art pupillage and a stint at the Louvre. Her first guidance on art was by Geoffrey-Alphonse Chocarne and later on Joseph Guichard. To polish up her experience in drawing, she and her sisters were enrolled at the Louvre Museum, the largest art collection centre in the world.
She first exhibited at the Salon and with time, Berthe's influence on art grew, and together with Marie Bracquemond and Mary Cassatt, they formed the impressionist quartet dubbed Les Trois Grandes Dames. Some of her paintings in 1884 include the Autumn in the Bois de Boulogne, Child in Bed, In the Garden at Maurecourt, Julie and Her Boat, Julie Writing, Little Girl in the Garden and On the Lake in the Bois de Boulogne.