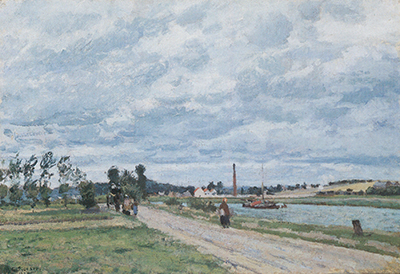 Buy Art Prints Now
from Amazon
* As an Amazon Associate, and partner with Google Adsense and Ezoic, I earn from qualifying purchases.
The Banks of the Oise near Pontoise is an early painting made using dry oil by Camille Pissarro. This was during impressionism where visual art was enhanced through colors and incorporation of real-life situations. Pissarro was determined to find an appropriate method that will help him in expressing his ideas.
As an artist, he presented the French landscape to show the development of human beings on land. The luminous colors show the atmospheric conditions whereas the surface seems sumptuous. Having been painted during impressionism, the silver light on the painting the atmospheric state. This was to put more stress on the movement. The loose brushwork represents the surface with the river, sky and the field. This impressive work shows the artists style and his ability to incorporate colors to present the surface. The painting also presents the railroad, a factory which Pissarro incorporated to emphasis on things ignored by the Romantic.
Pissarro's artwork was influenced by the daily lives of French peasants. His desire to pursue empirical study through the effects of light on colors and the atmosphere. This would later be a core impressionist theme. Moreover, he was influenced by Gustave Courbet's work which insisted on presenting realistic physical nature of objects experimented. Gustave lived in the country-side, unlike most impressionists which inspired Pissarro to do the same and assist other painters that were interested in his work.
Pissarro used canvases in his painting process. Corresponding colors were fragmented and brushstrokes were combined to increase the brightness of the objects in the painting. By doing this, the artwork clearly aligned with French peasants in his countryside and also fit harmoniously with the landscape. Therefore, bringing out the reality of day-to-day activities. These visuals communicated and resonated to the community, something that was omitted in impressionist artworks.
The artist's techniques relied on nature. This can be seen in his work which focuses so much on landscapes and agriculture at the country-side. This approach also led to his love and desire to express humanism. That is why the painting includes peasant women. Besides, the need to grow or develop was another technique he used especially when he chose to solitude over other impressionists. Thus, being able to innovate new ways of painting which will be later adopted by younger artists. Pissarro was able to discover a non-tedious method of physical painting by decreasing the number of canvases that he used. All in all, Pissarro lived a productive and real life which influenced many artists later on.