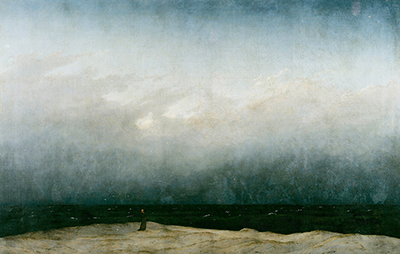 Buy Art Prints Now
from Amazon
* As an Amazon Associate, and partner with Google Adsense and Ezoic, I earn from qualifying purchases.
The Monk by the Sea is an eerie painting by German Romanticist artist, Caspar David Friedrich, from 1808-1810.
Friedrich was pleased with the final artwork and so decided to exhibit it almost immediately alongside The Abbey in the Oakwood in Berlin, 1910. They were probably the two main highlights of the entire show and subsequently purchased by King Frederick Wilhelm III. Its original German title was Der Mönch am Meer, or The Monk by the Sea. Some art critics have suggested a connection to God as the inspiration for this painting. To see a single figure so small in comparison to the environment around him, plus his status as a Monk, perhaps points to this individual's connection to the Lord. It is places his own life in perspective, visually. The overall scene is particularly dark and low in detail, as a means to communicating these points.
The completed painting measures 110 cm × 171.5 cm (43 in × 67.5 in) and can now be found at the Alte Nationalgalerie in Berlin, Germany. Check ahead for information on whether it is on display or not as this venue holds an impressive selection of work in its permanent collection. Besides Friedrich's The Monk by the Sea, The Abbey in the Oakwood and Moonrise over the Sea, you will also find work from the careers of artists such as Manet, Renoir, Adolph Menzel, Jean-Baptiste-Camille Corot, Max Lieberman and Claude Monet.