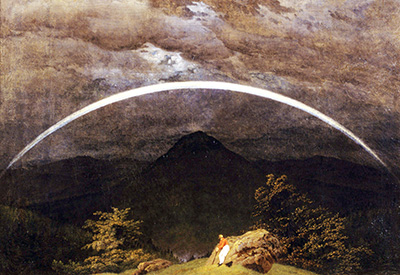 Buy Art Prints Now
from Amazon
* As an Amazon Associate, and partner with Google Adsense and Ezoic, I earn from qualifying purchases.
Friedrich again uses human figures to underline the greatness of the natural world, reminding us at just how small and unimportant we all are in the grand scheme of things.
Friedrich was one of many talented European Romanticist artists, but perhaps the only one to consistently use this technique of adding people into the foreground of his landscape paintings. He adored the countryside and wanted others to see its beauty, just as he did. His style attempted to take reality and add to it with his own emotions, this was Romanticism. The result of this combination were charming scenes which promoted the German landscape and provide calming scenes to those who appreciate art from a purely aesthetic angle. In Mountain Landscape with Rainbow the artist uses a particularly dramatic set of lighting that focuses the eye on the individual figure in the foreground, in fact it is so abrupt that it is almost in the realms of Rembrandt or Caravaggio who did similar with their portraiture.
We find a particularly imposing sky in the background, with a small hill placed centrally. A rainbow spreads right across the composition and is intended to essentially provide the dimensions to the piece. The figure close to us is surrounded by a series of trees an bushes that are predominantly darkened, but with just a few in lighter tones so that we can understand what we are looking at. Smaller ridges are then placed either side of the largest hill in order to complete a natural looking setting. This is one of several darkened landscape paintings by Friedrich who was intending to capture the dramatic nature of these conditions.