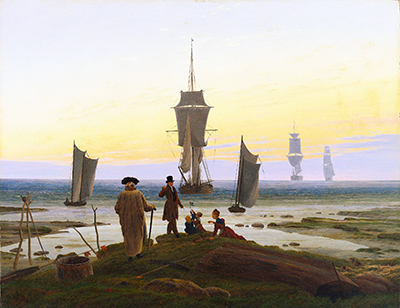 Buy Art Prints Now
from Amazon
* As an Amazon Associate, and partner with Google Adsense and Ezoic, I earn from qualifying purchases.
Caspar David Friedrich's The Stages of Life is a typical example of his work as one the most important German Romantic Landscape painters of the 19th Century. Using symbolism and gothic realism, his works are designed to give a melancholic, emotional impact.
Windswept vistas, eerily barren trees and moody skies characterise many of his works. Nature itself is the protagonist, with human drama incidental to the emotional impact that mother nature creates. One of his contemporaries, David d'Angers, described Friedrich's work as 'the tragedy of landscape'. A turning point in his career was the 1805 Welmar competition, headed by von Goethe, which Friedrich won and by the age of 34 he was being regularly commissioned.
Painted in oils towards the end of Friedrich's life in 1835, The Stages of Life is richly conceived with the eye drawn to the ships on the misty horizon. These five ships come breaking through the melba coloured sky at dusk and edging towards the shadowy figures, unidentifiable, in the foreground. Some critics believe this work to be a rumination by Friedrich on his own mortality, exploring the classical theme of figures passing from life to death via boat. Although the figures all have their backs to the viewer, critics have determined that they represent the artist and his family.
The location too is said to be near Friedrich's own birthplace of Griefswald, which ties in the with autobiographical nature of the work. Despite the easy to deduce narrative of the painting, it is thought that Friedrich himself did not name the work, which was common practise in German Romanticism. The focus was on the visual, so it is presumed that the name, The Stage of Life, was added to categorise the painting at a later time.
Although celebrated for the majority of his lifetime, his last decade saw Friedrich and his family slip into poverty as the Romanticism style began to be seen as too curious and bleak to be taken seriously. The Stages of Life was one of his last works in oil as shortly afterwards Friedrich suffered a stroke, which caused partial paralysis and greatly restricted his abilities as an artist.
Caspar David Friedrich's works remained popular throughout the 19th and early 20th Centuries, inspiring the artists of the Expressionist and Surrealist movements in the 1920's. However, his popularity waned during Fascist Germany, when tastes turned away from the romantic during the Nazi occupation. However, by the 1970's, Friedrich's paintings were once again back in favour. Today, he is still revered as one of the greatest artists of his time, completing more than 500 works during his career. For those wishing to see the painting, it currently hangs in the Museum der Bildenden Kunste in Leipzig, Germany.